Regular price
£1,030.00
Sale price
£775.00
Unit price
per
Sale
Sold out
We have 1 in stock
Share
View full details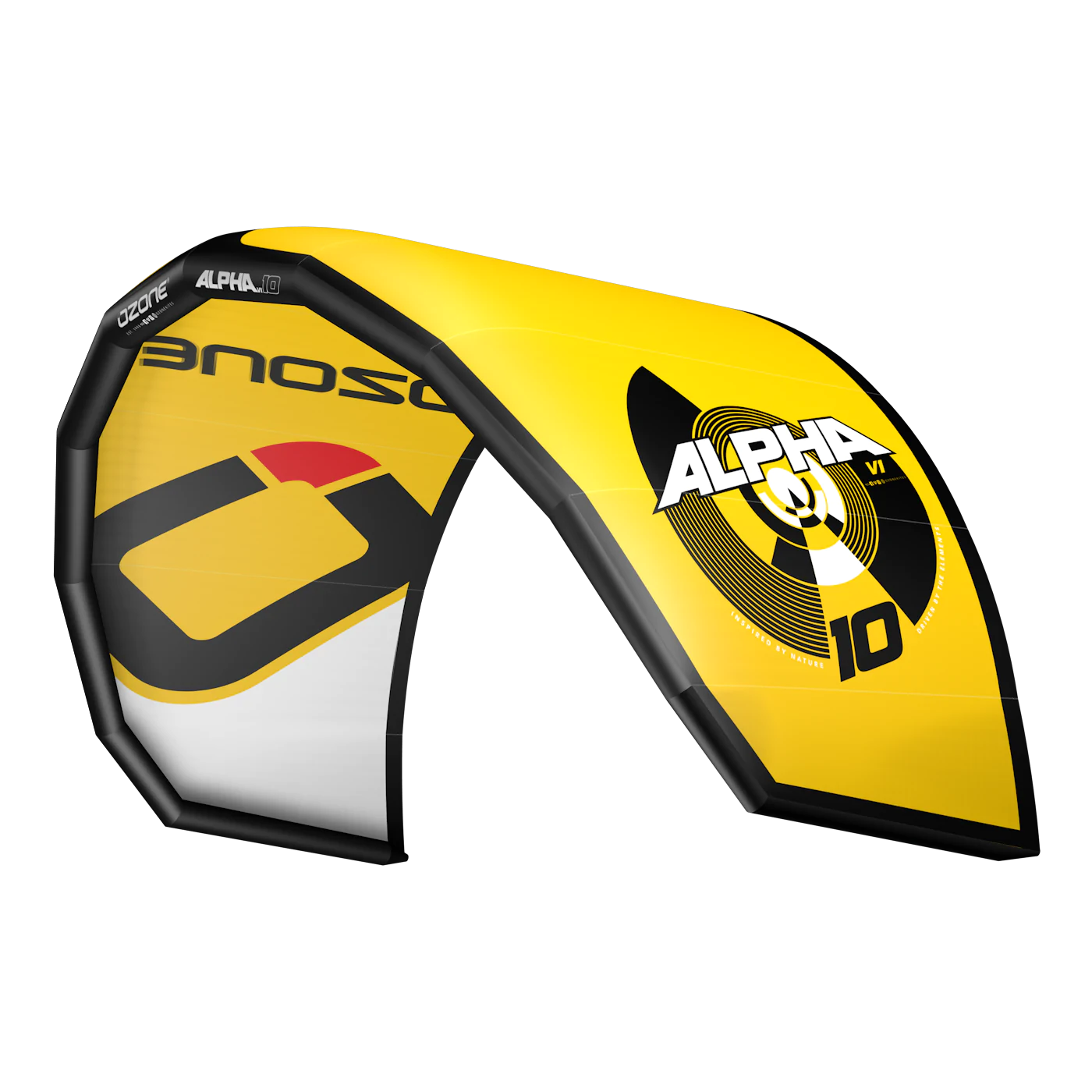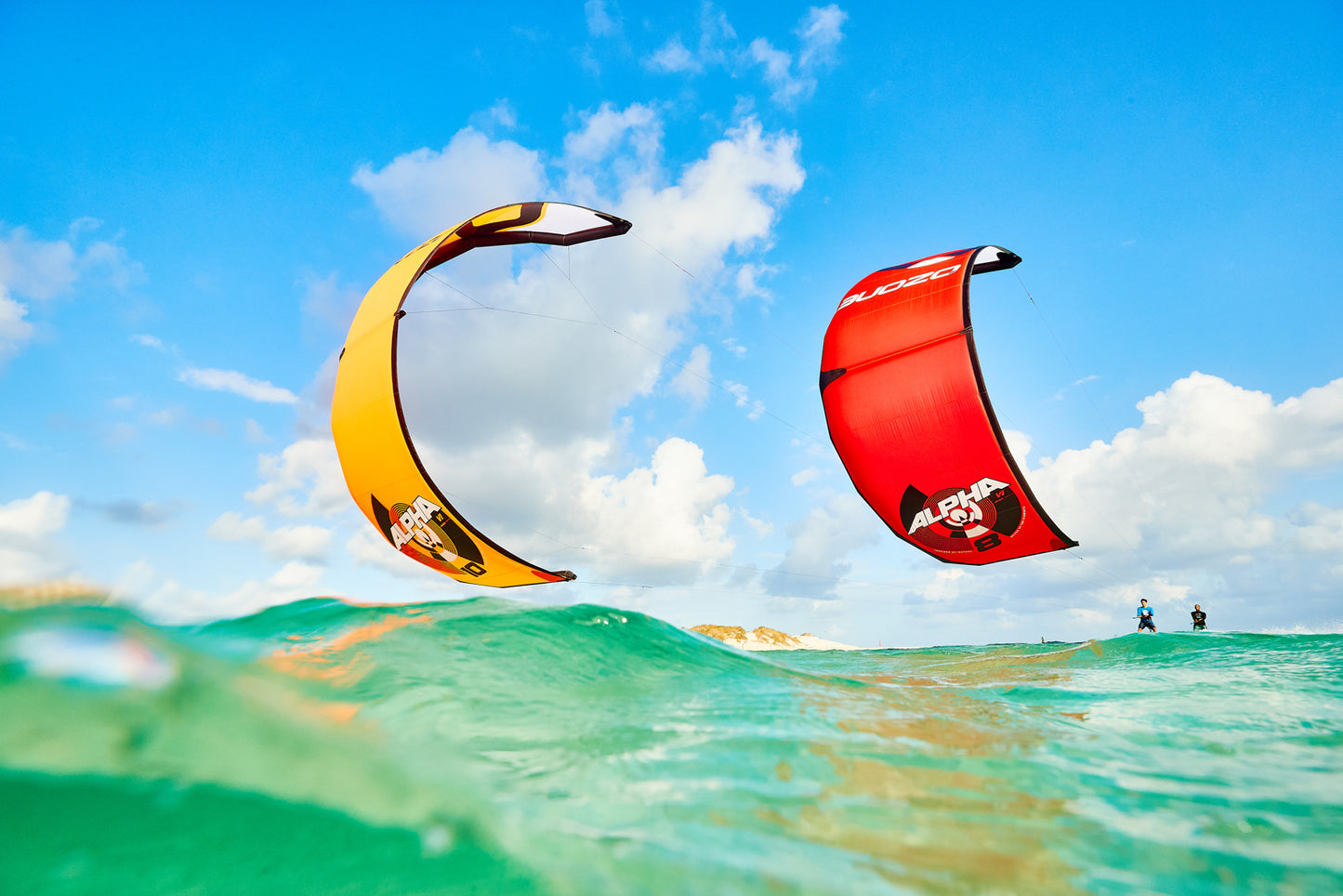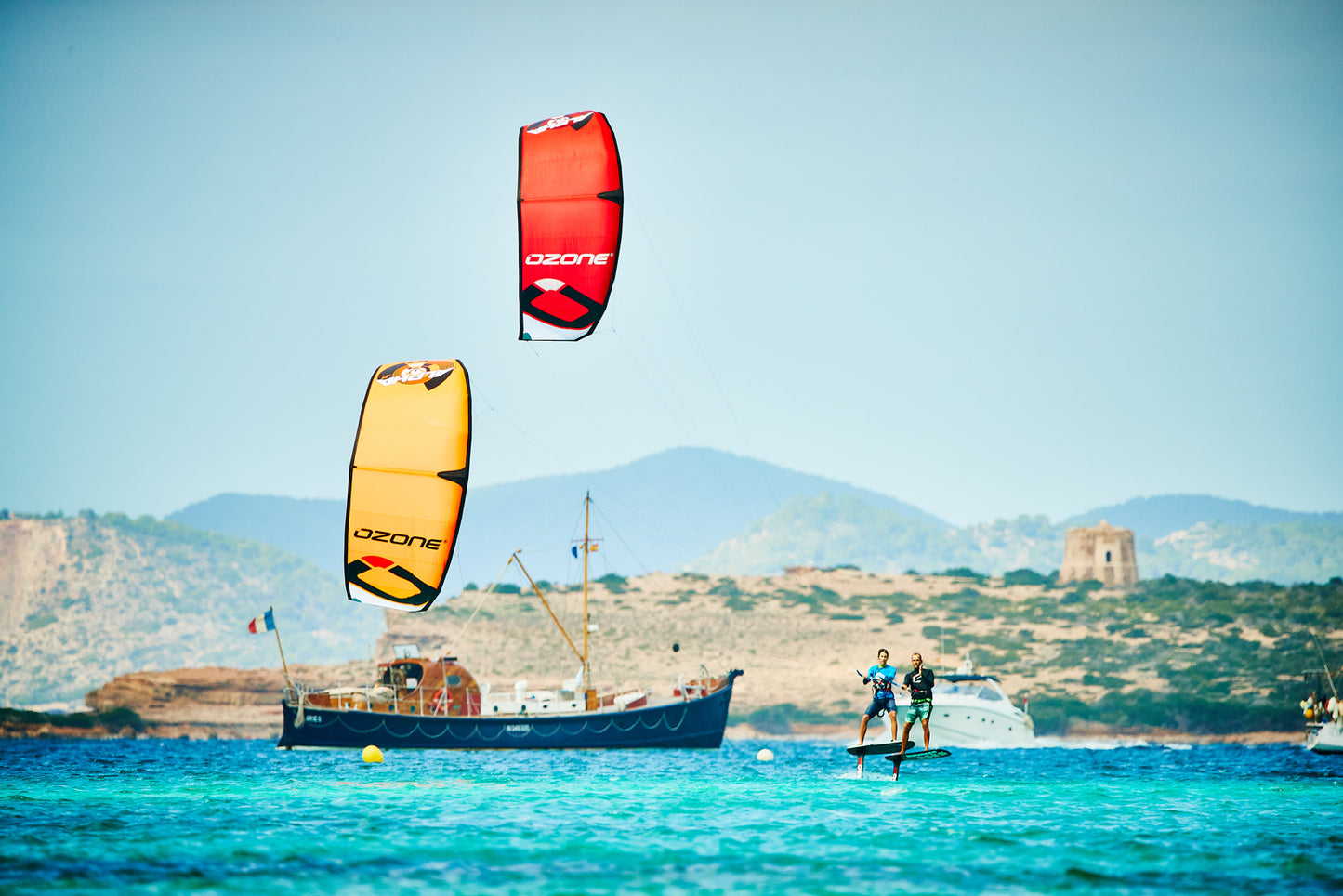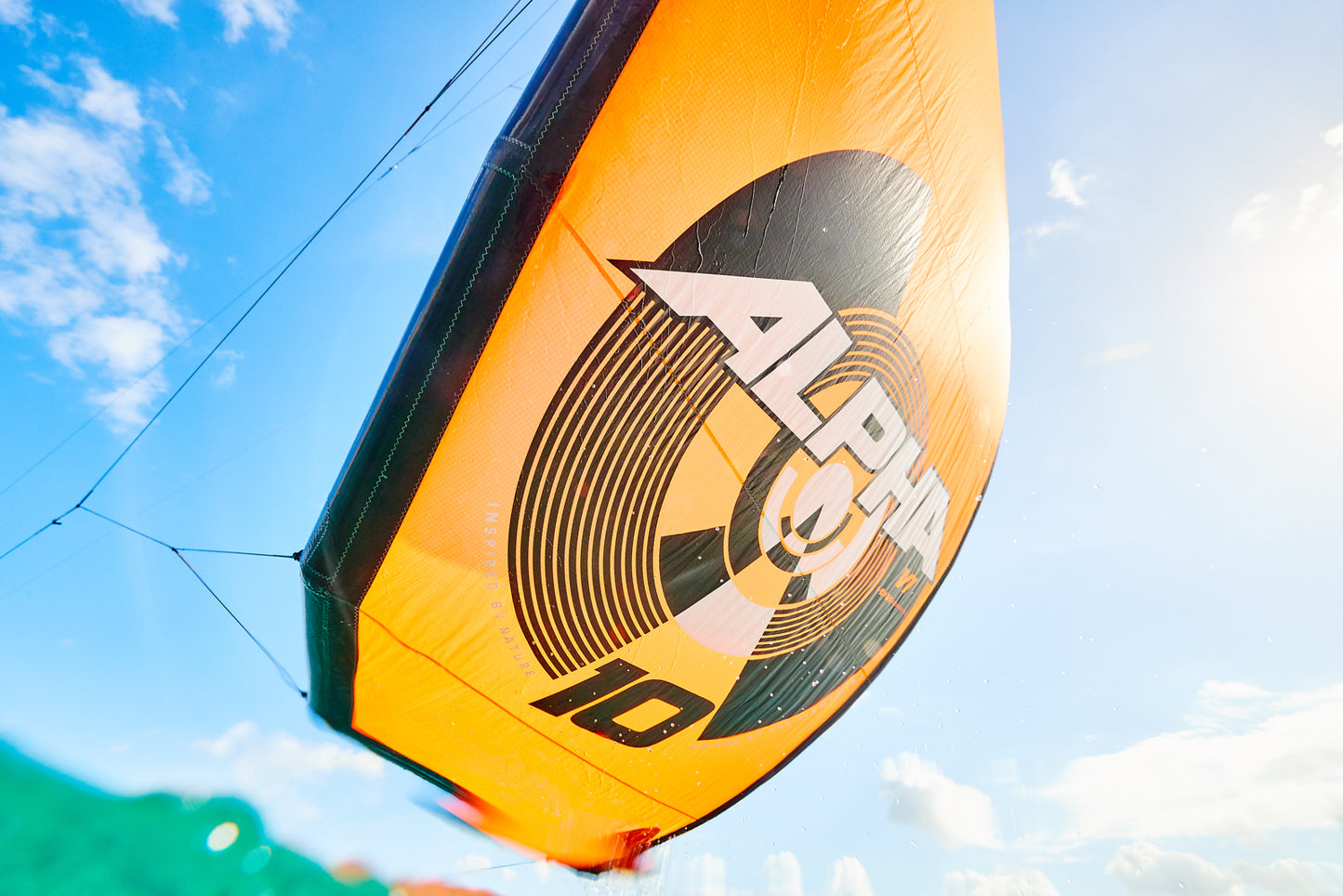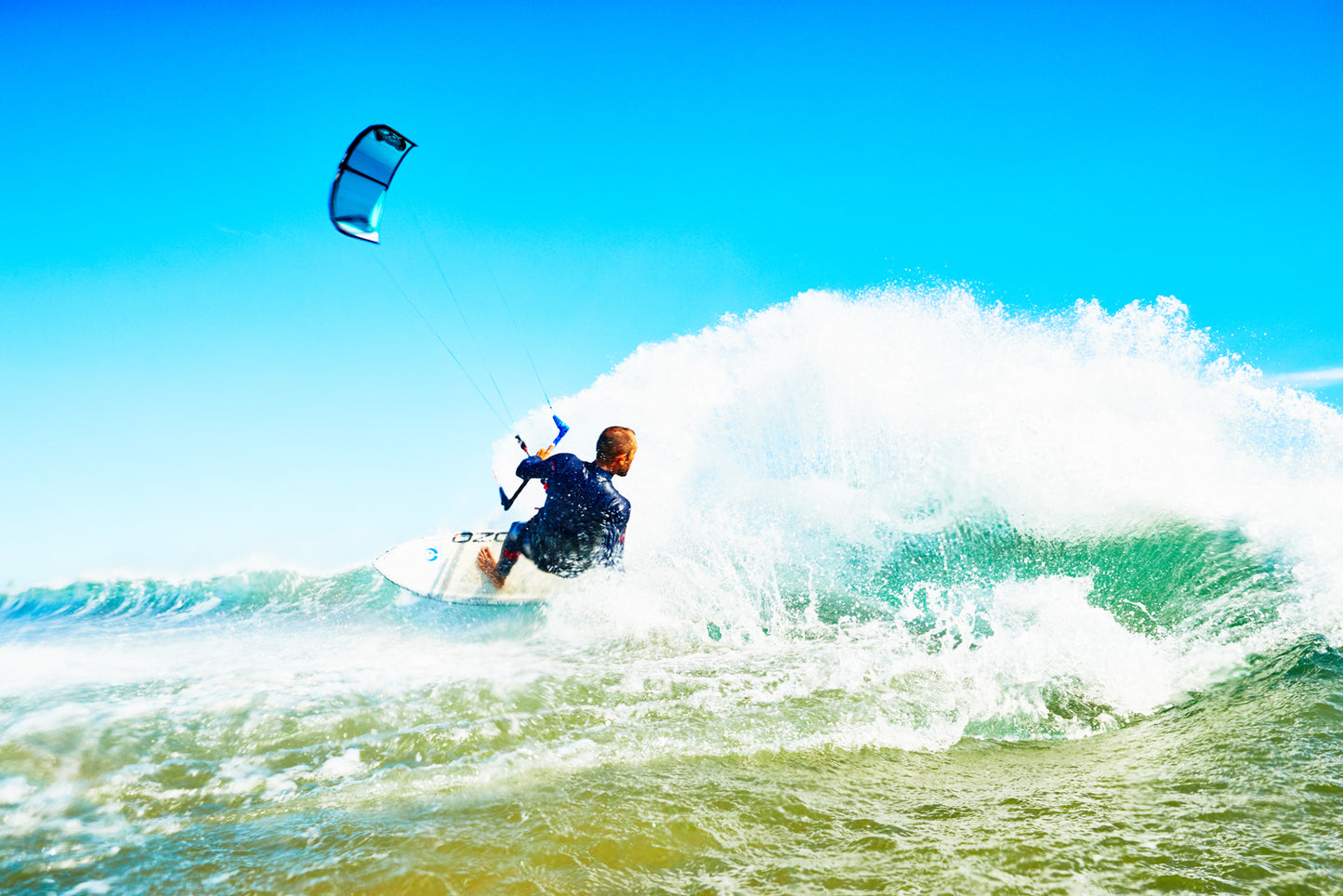 Ozone Alpha V1
THE ALPHA V1 IS A UNIQUE SINGLE STRUT DESIGN THAT HAS REDEFINED OUR EXPECTATIONS OF INFLATABLE KITES. IT'S SIMPLE, INCREDIBLY LIGHTWEIGHT AND VERY EFFECTIVE – IT IS A WINNER FOR ANY QUIVER.

Grab a twin tip and go cruising or jumping, enjoy the ride while progressing with ease. You will be surprised at the jumping and looping capabilities of the Alpha; it has smooth lift and hang-time with precise feedback. The Alpha has great upwind performance thanks to the innovative flat arc design and an efficient high lift airfoil section.
The lightweight design translates to incredible low-end performance making the Alpha a very competitive choice not only for light wind freeriding, but also the expanding freeride hydrofoil scene in almost any wind strength. The power to de-power stroke is progressive and dynamic enough to provide smooth lift for transitions and jibes with a foil board.
For high wind foiling in chop or waves, take a small size with shorter lines for loads of fun drifting the kite while carving swells across the wind.
In the surf the Alpha is perfect for drift style wave riding as it floats with you. The handling is direct and responsive which allows you to put the kite where you need it. The Alpha is not as dedicated to waves as the Reo, but it still delivers solid performance in cross-shore to on-shore conditions.
Water re-launch is easy, by simply turning the bar or using the re-launch balls on the leader lines, the kite will roll over into the re-launch position.
Going traveling? Take the Alpha with you, it's incredibly lightweight, packs small and can do anything you want to do on any given day…
The Alpha V1 comes standard with an ultra lightweight Compressor Bag, perfect for travelling and day-to-day protection for your kite. It is easy to use and compresses a kite to minimal size. Combine with the Technical Bag to fit multiple kites inside one carry bag.
The Alpha is available in 4m, 6m, 8m, 10m, and 12m and in 3 colour schemes. Custom colours are also available.

Construction Features
Designed With OZ-CAD
Exceptional Ozone Factory Construction
Teijin TechnoForce D2 & Teijin Dacron
4-line Pulley-less System
One-Pump Inflation System
High volume inflate/deflate valve
Tuned Bridle Geometry
Fool proof line connectors
Anti-Snag line deflectors
Direct Connect Struts
Unique bladder construction
Double Stitched Folded Seams
Internal reinforcements
Load Distribution Panels
Low profile aerodynamic Scuff Pads
Reinforced Leading Edge and Struts
Reinforced Trailing Edge
Bar Size
Bar sold seperately. We recommend the Contact Water Control System.
| | | | |
| --- | --- | --- | --- |
| Bar Size | 45cm | 50cm | 55cm |
| Kite Size | 4/6 | 8/10 | 12 |
Wind Range
Based on 80kg average rider
| Size | Knots |
| --- | --- |
| 4 | 20-30 |
| 6 | 17-28 |
| 8 | 16-25 |
| 10 | 15-23 |
| 12 | 12-20 |
Package Contents
Kite Only
- Kite, Kompressor Bag, Repair pack
About Ozone
Ozone is one of the world's leading manufacturers of Kites and Paragliders, created around a dedicated team of passionate riders and pilots that share the same outstanding passion for nature, exciting sports and progress. Their development of their own manufacturing facility and bespoke design software together with their commitment to offering full product life cycles makes them stand out.