Regular price
Sale price
£650.00
Unit price
per
Sale
Sold out
Share
View full details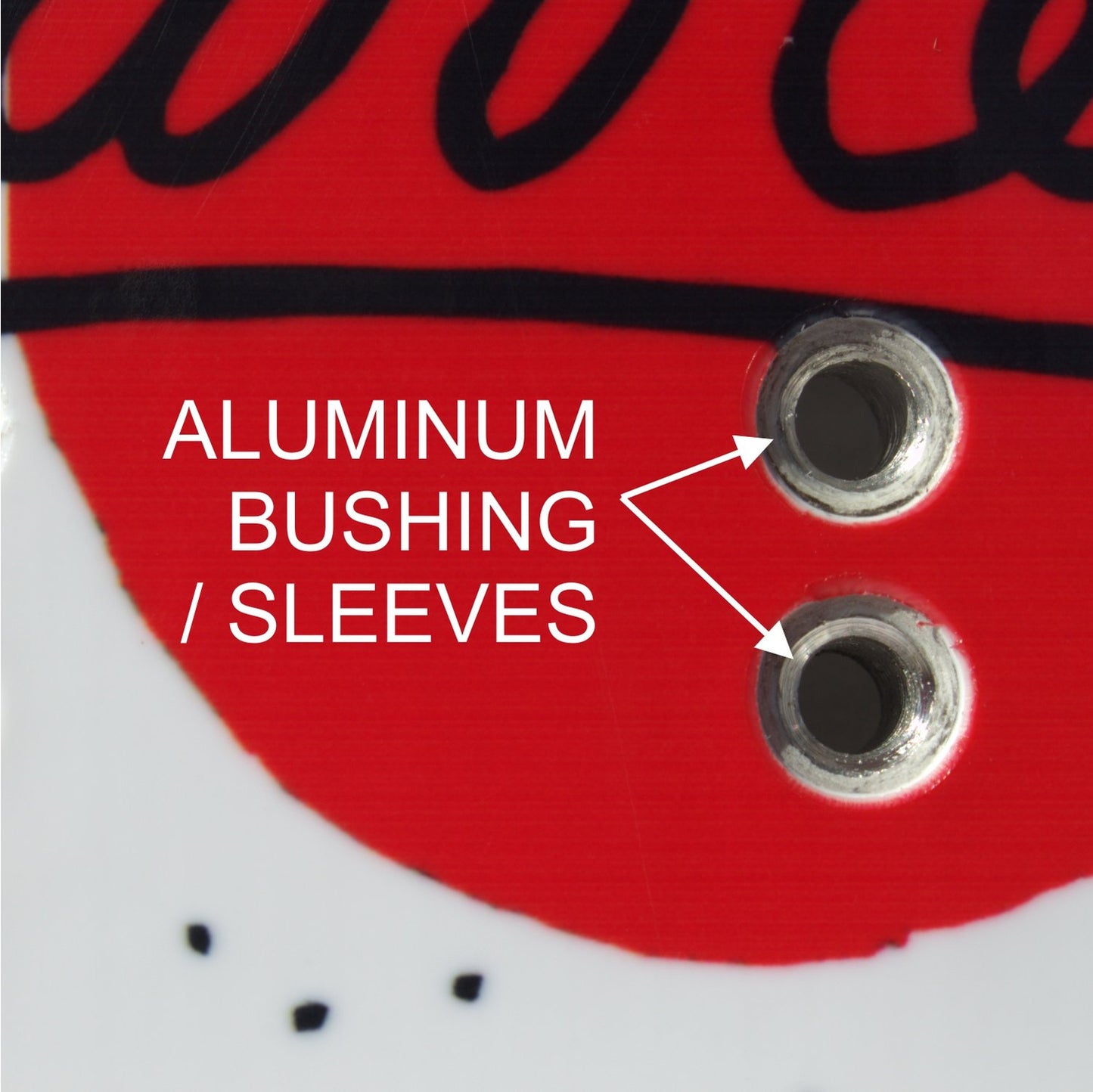 MBS Pro 97 - Dylan Warren III - Snake
This is the latest Pro model mountainboard from MBS. Dylan Warren's third signature deck. This time there are some major upgrades with some highlights being the fully composite snowboard style deck construction complete with ABS sidewalls and of course the new Matrix III trucks which allow you to dial in your ride better than ever before.
STOCK DUE MID FEBRUARY
They say three is the magic number and the new MBS Pro Warren III mountainboard is no exception. With unprecedented configurability your wish is it's command. With its multiple truck mounting options you can set it up long and low for maximum speed and stability (116cm length) or short and high for the nimblest freestyle board MBS has ever produced (110cm length), or somewhere in between for that all-around vibe (112/114cm). In the turning department the new Matrix III's multiple shock block position options (inside/outside) doubles the range of turning resistance of any other truck in the market. With shock blocks in the inside position the lightest of riders can turn on a dime, even without bindings. At the other end of the spectrum riders with a need for speed will find unprecedented stability with their shock blocks in the outside position (straight, no chaser). And the best part is, the range of options in between is limitless. One board finally does it all!
For more information watch our MBS tech talk video series on Youtube which covers all the juicy details of the new Dylan Warren III deck and Matrix III trucks.
FEATURING:
DECK: MBS Pro Warren III deck features art by Jess Mudgett and full composite snowboard construction with a vertically laminated multi-species wood core and polyurethane sidewalls. Flat PBT base ideal for rail slides. Comfortable shock absorbing grip pads with 8mm radial concave and 36 grit top surface lock you in! And a ton of other features that make this deck something special.
Deck Details:
High performance snowboard-style composite construction
Vertically laminated multi-species wood core

Poppy fiberglass/epoxy structural layers

Durable polyurethane "white-wall" sidewalls

Hard-wearing sublimated PBT top graphic

Slick textured PBT base graphic ideal for rail slides

Aluminum truck-hole bushes

Multiple truck and binding mounting positions

Comfortable shock absorbing grip pads.

 

Elastomer dampening reduces vibration fatigue. 8mm radial concave maximizes leverage while minimizing pressure points. Coarse 36 grit griptape for maximum grip. 

confidential



Art by Jess Mudgett / Instagram @jessmudgett


TRUCKS: New Matrix III trucks are strong, light, and endlessly versatile. Turn on a dime or set a world speed record. You choose.
Truck Details:
Multiple shock positions for widest range of turning resistance available (inside = nimble carvy / outside = super stable)
Upgraded shock block shape and formula (3 hardness options)

Oversized hollow square hanger profile (stronger & lighter)

Tighter tolerances for unsurpassed turning precision

Upgraded pivot interface for longer life

Flippable design creates option for shorter / higher set-up

Two hanger width options and swappable axles allow for four possible widths


TIRES / HUBS: Fast and light 8" T1 tires mounted on tried and true MBS Rockstar II hubs offer a dependable connection to virtually any surface on earth.

BINDINGS: Comfortable, adjustable, and dependable F5 bindings. There's a reason everyone loves them.
SPECS:
PT#: 10406
Part Description: MBS Pro Warren III Mountainboard - Snake
Rider Style: Beginner to Advanced
Overall Weight: 15.9 (lb) / 7.2 (kg)
Overall Length (Variable): 43.7 – 46.0 (in) / 111 - 117 (cm)
Axle to Axle Length (Variable): 35.8 – 38.2 (in) / 91 – 97 (cm)
Deck Construction: Snowboard Composite Construction
Deck Stiffness: Stiff with High Pop
Graphic Material: PBT
Grip Tape: 46 Grit - Alum. Oxide
Deck Tip Angle: 30
Deck Length 38.6 (in) / 98 (cm)
Deck Width (Max): 9.6 (in) / 24.4 (cm)
Deck Weight: 5.8 (lb) / 2.6 (kg)
Truck Type: Matrix III
Truck Material: Extruded 6061-T6 Alum Top Truck and Hanger; Cromoly axle
Truck Color: Black (Matte)
King Pin: M6 (Cromoly)
Suspension: Matrix III Shock Blocks (White - Soft)
Axle Width: 15.8 (in) / 40 (cm)
Axle Diameter: .472 (in) / 12 (mm) - Hollow
Hub Type: Rock Star II
Color: Black
Accepts Bearing Size (OD): 28mm
Bearing: 12mm X 28mm
Tire Type: T1 (8") – 200X50
Tire Color: Black
Binding Type: F5 - Black
Hardware Type: Black Zinc / Stainless
Grab Handle: Drilling Required
Brake Compatible: Yes
Brake Included?: No
Assembly: Wheels Off
Condition: New

About MBS Mountainboards
Founded in 1993 in Colorado Springs, CO, MBS pioneered the sport of mountainboarding to extend the snowboard season all year round. We are the original mountainboarding company and lead the industry in developing innovative and high performance mountainboard products. We are dedicated to the advancement of the sport and its riders around the world.