Regular price
£2,455.00
Sale price
£1,965.00
Unit price
per
Sale
Sold out
We have 1 in stock
Share
View full details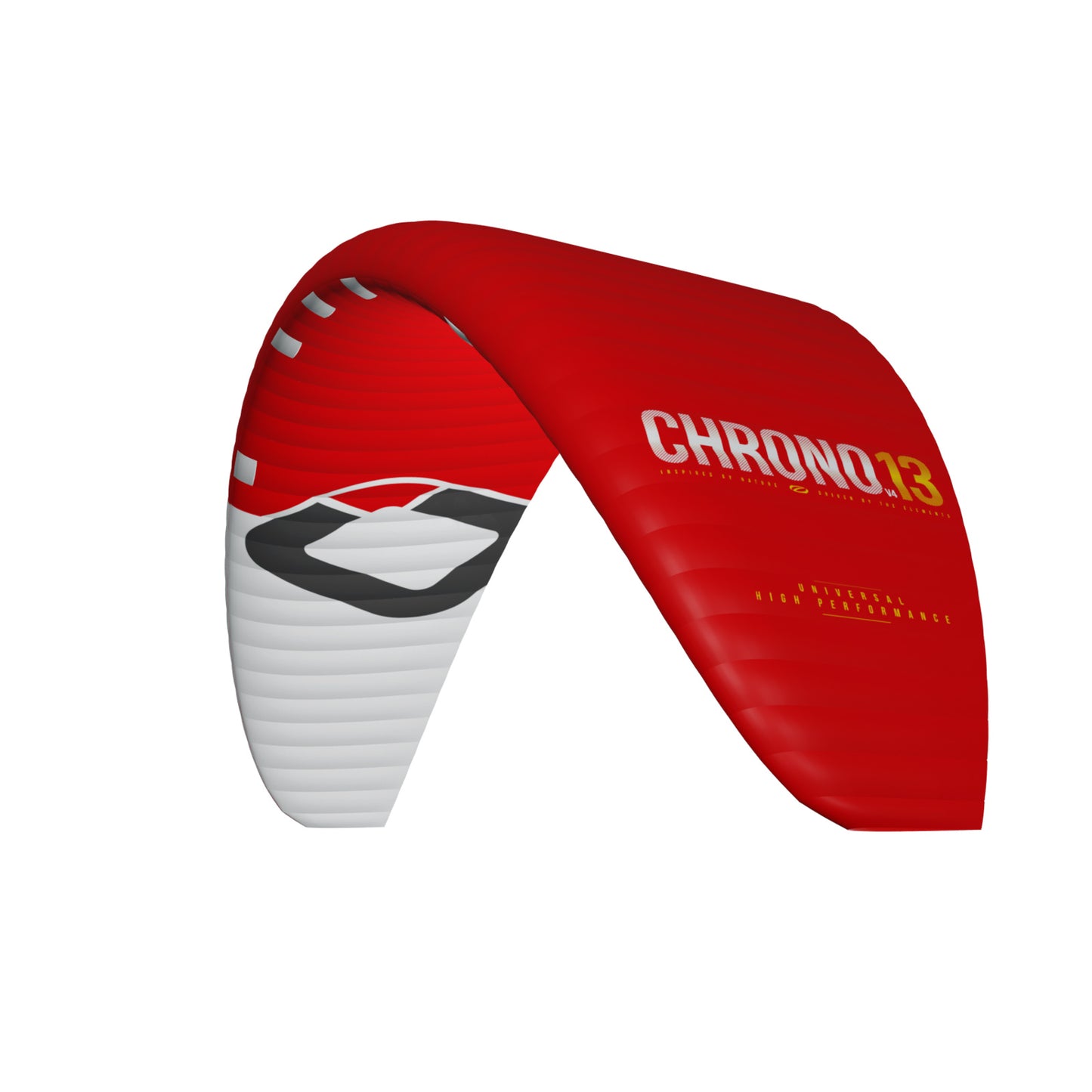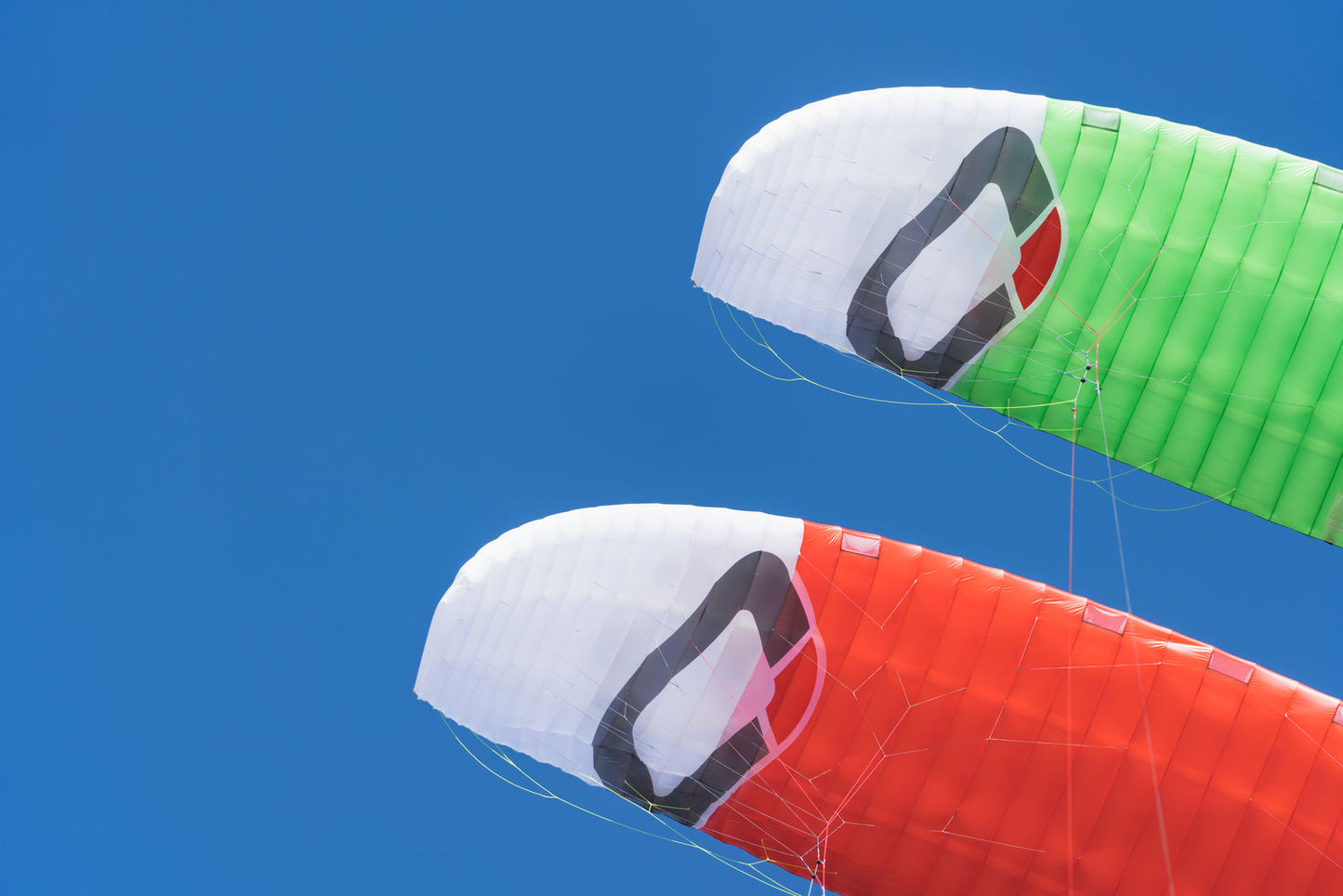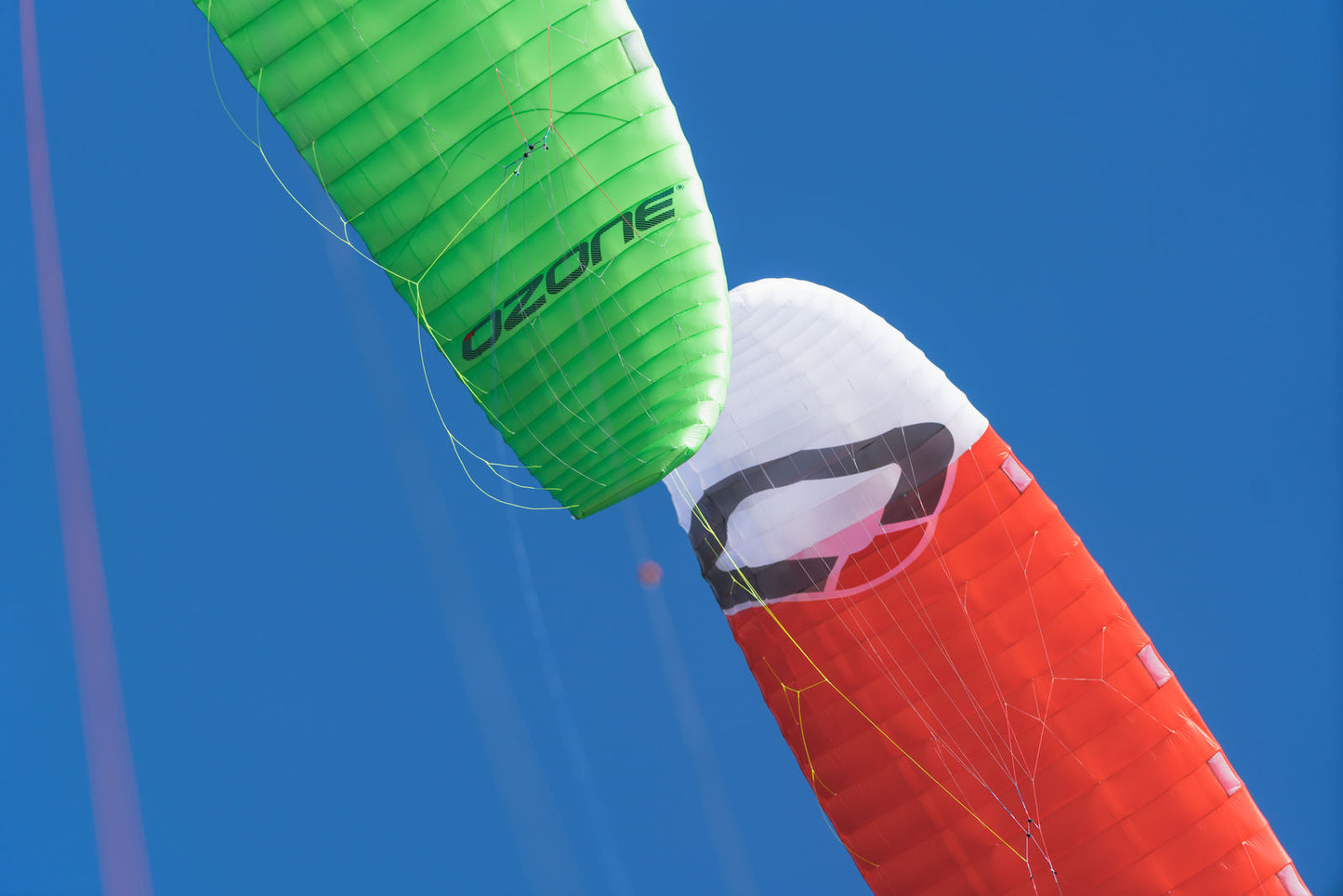 Ozone Chrono V4
THE CHRONO LEGACY LIVES ON! THE ALL-NEW V4 HAS BEEN COMPLETELY REDESIGNED WITH EMPHASIS ON ACCESSIBLE PERFORMANCE USING THE LATEST DESIGN TECHNOLOGY AND UNDERSTANDING FROM OUR HIGHEST PERFORMANCE RACE KITE, THE R1 V4.
Performance wise the Chrono V4 sits between the Hyperlink and R1 models. Many technical details were transferred across from the R1 V4 to the Chrono V4 providing a similar feeling while being less demanding to fly. It's for performance orientated Hydro Foil and Twin Tip riders who want a high level foil kite for light to mid wind ranges.
New Leading Edge Transversal Shaping creates a cleaner surface on the most important area of the aerofoil. The new internal construction, increased cell count by 8%, bridle line count reduced by 25% and total bridle line length reduced by 14% drastically reduces drag. These advancements in design combined with lightweight materials means the kite handles extremely well especially in light winds. The Chrono V4 is not much more demanding to fly than the Hyperlink V2 however its performance threshold is closer to the R1 V4, so it has more potential to take you to the next level!

Continuous power generation through turns makes the Chrono V4 a fun kite for active flying to generate power when conditions are light. It is ultra stable and reacts to bar inputs instantly making it easy to get riding in the lightest winds. An overall lighter bar feeling allows you to ride with less fatigue.
For Foil Board riders the Chrono V4 is a true out and out sports car, the harder you drive the more it offers. It's got great angles up and downwind, it's really fast if you like speed and hold on if you send it! Twin Tip riders can expect nice big floaty jumps, just load the rail and send it. Easy up wind even when it's light and if you have a flat water spot then pull that bar in and see how much power and speed your legs can handle!
The Chrono V4 features an all-new material combination with a durable, airtight and lightweight double rip-stop for the upper and lower surfaces. The new material has a unique formulated coating to help shed water, improving flying characteristics and water re-launch. The Chrono V4 is durable and strong, while being as lightweight as the V3 Ultralight version.
The Leading Edge air intakes have been refined for faster progressive inflation, improved seal and optimised positioning to maintain internal air pressure. This enhances land and water re-launch capabilities.

BRAKE LINE SETTINGS
Three settings allow you to fine tune kite feedback and bar pressure to your liking. It is quick and easy to change with no extra lines to add or remove.

All-round – The ideal balance in performance and feeling for most riders and conditions. The All-round setting is the middle knot on the PB1 line (factory setting).
Twin Tip – Increases bar pressure and offers a sharper, more direct feeling perfect for Twin Tip riding. If you prefer a heavier and direct feel this could be the setting for you. The Twin Tip setting is the lower knot on the PB1 line.
Hydro foil – Decreases bar pressure with a longer lifting period perfect for foiling maneouvers.The Hydro Foil setting is the upper knot on the PB1 line.

FLYING LINE RECOMMENDATIONS
We recommend the following line length over the standard 25m:

11m & 13m – 21m Lines

15m & 18m – 23m Lines

Using line lengths of 20m to 23m the handling of the Chrono V4 becomes more responsive making jumping more direct and easier. You will feel an increased 'connection' to the kite, it will become more responsive and direct. In stronger winds with shorter lines the upwind ability will be enhanced significantly. For Hydro Foiling shorter lines (10m to 20m) are preferred by a wide range of users.

Technology
Ozone factory construction
- Exceptional hand checked Ozone factory construction using the highest quality materials.
Designed with OZ-CAD
- The FUTURE is NOW - All Ozone kites are designed and developed using our own highly advanced custom built CAD software. Our designers are able to work with parameters specifically formulated to calculate unique aspects required in technical Inflatable and Foil kites. Part of our design team is dedicated to the upgrade of the CAD code and addition of new modules and features to the program as the development of our kites continues.
Ultra light materials
– All new improved Ultra Light material combination: durable, airtight, lightweight double rip-stop, with unique coatings to help shed water. Using Ultra Light materials translates to true performance increases - the kite inflates quicker, flies faster and is more reactive even in the lightest breeze.
Transversal shaping
- The Leading Edge now features Transversal Shaping creating a cleaner surface on the most important area of the aerofoil. The result is less turbulent airflow and longer skin adhesion, which positively effects the lift to drag ratio increasing overall performance.
High cell count
- A high number of cells controls ballooning between the ribs, holding the wing shape and designed surfaces smoother and more accurately. This reduces turbulent airflow, providing more efficiency, speed and de-power for increased overall performance.
Optimised leading edge air intakes
- The Leading Edge air intakes have been refined for faster progressive inflation, improved seal and optimised positioning to maintain internal air pressure. This enhances land and water re-launch capabilities.
Performance double surface
– The Chrono V2 lightweight double surface design is combined with a mid-high aspect ratio and 46 cells. The high number of cells means the ribs are positioned closer together, creating ultra smooth surfaces with reduced drag and maintaining a clean profile, resulting in superior flight efficiency.
L.E profile reinforcements
– The Leading Edge is reinforced with flexible lightweight plastic battens to maintain the shape of the profile during angle of attack changes and turbulent airflow.
Internal diagonals and straps
- Internal span-wise straps work in unison with optimized diagonal ribs, distributing load from the bridles evenly and effectively. This increases the internal structural balance, while allowing the top and bottom surfaces to maintain the designed profile without being distorted from indirect tension or loads.
Sheathed bridle lines
– Requiring less maintenance and less likely to tangle. The bridles are well proven; they are the same specification that we use on our Snowkite range. The lines are thicker and stiffer compared to the R1's high performance Kevlar line, and the sheath makes them less prone to damage.
Double pulley speed system
- Using high spec low friction Ronstan Orbit pulleys to reduce wear and rider fatigue while improve feeling and performance of the kite.
Water drainage channels
– An internal channel is shaped into the end of each cell along the trailing edge. This allows loose sand or water to run between the cells and out of the tips during flight. The Velcro sealed cells at the tips can be opened for cleaning the kite. Always clean your kite by emptying any water, sand or dirt as this will prolong the life of the kite and help it fly as designed.
Waterproof deflation zipper
- Intelligently positioned for easy deflation and pack down.
Tuned bridle geometry
- We work extensively during our R&D process to develop the size range to feel in tune with each other. Every kite has a unique bridle layout, individually tested and fine-tuned to maximize the feeling and performance.
Specs
| | | | | |
| --- | --- | --- | --- | --- |
| Kite Size | 11m | 13m | 15m | 18m |
| Weight (KG) | 1.9 | 2.2 | 2.4 | 2.8 |
| Bar Size (cm) | 50 | 50 | 55 | 55 |
| Line Length (m) | 21-25 | 21-25 | 21-25 | 21-25 |
| Number of cells | 47 | 47 | 47 | 47 |
| Projected area (M2) | 8.34 | 9.98 | 11.6 | 14.1 |
| Flat Area (M2) | 10.7 | 12.7 | 14.8 | 17.8 |
| Projected aspect ratio | 4.38 | 4.38 | 4.38 | 4.38 |
| Flat aspect ratio | 6 | 6 | 6 | 6 |
| Root Chord (mm) | 1600 | 1750 | 1890 | 2080 |
| Span (mm) | 7770 | 8500 | 9170 | 10100 |
Relaunch and Safety System
The Chrono V4 is a closed-cell foil and is water re-launchable, but we recommend that you keep it flying and out of the water if possible! Using the re-launch webbing handle that connects the rear flying lines it is possible to reverse the kite off the water and continue riding. We recommend you practice this technique. An internal drainage channel running through to both wing tips allows any water that may have entered the kite to drain out. The Chrono V3 is not a wave kite and should not be used in waves.
The Chrono V4 features a simple yet effective front line flag out release. After releasing the flag out always check the speed system, bridle lines and flying lines for twists before restart.
Maintenance
The Chrono V4 will require maintenance just like any high performance equipment in racing sports, for example replacing tyres or piston rings on motorbikes. The Speed System and Bridle Lines must be checked after every 60 hours flying time, if they are worn or are not to factory specifications (+ or - 15mm) they must be replaced or the kite will not perform as designed.

Wind Range
| Size | Water - Knots | Land/Snow - Knots |
| --- | --- | --- |
| 11 | 11-20 | 7-18 |
| 13 | 10-19 | 5-15 |
| 15 | 9-15 | 4-14 |
| 18 | 6-14 | 3-8 |
Package Contents
Kite Only
- Kite, Bag, Repair pack
About Ozone
Ozone is one of the world's leading manufacturers of Kites and Paragliders, created around a dedicated team of passionate riders and pilots that share the same outstanding passion for nature, exciting sports and progress. Their development of their own manufacturing facility and bespoke design software together with their commitment to offering full product life cycles makes them stand out.