Regular price
Sale price
£2,195.00
Unit price
per
Sale
Sold out
We have 3 in stock
Share
View full details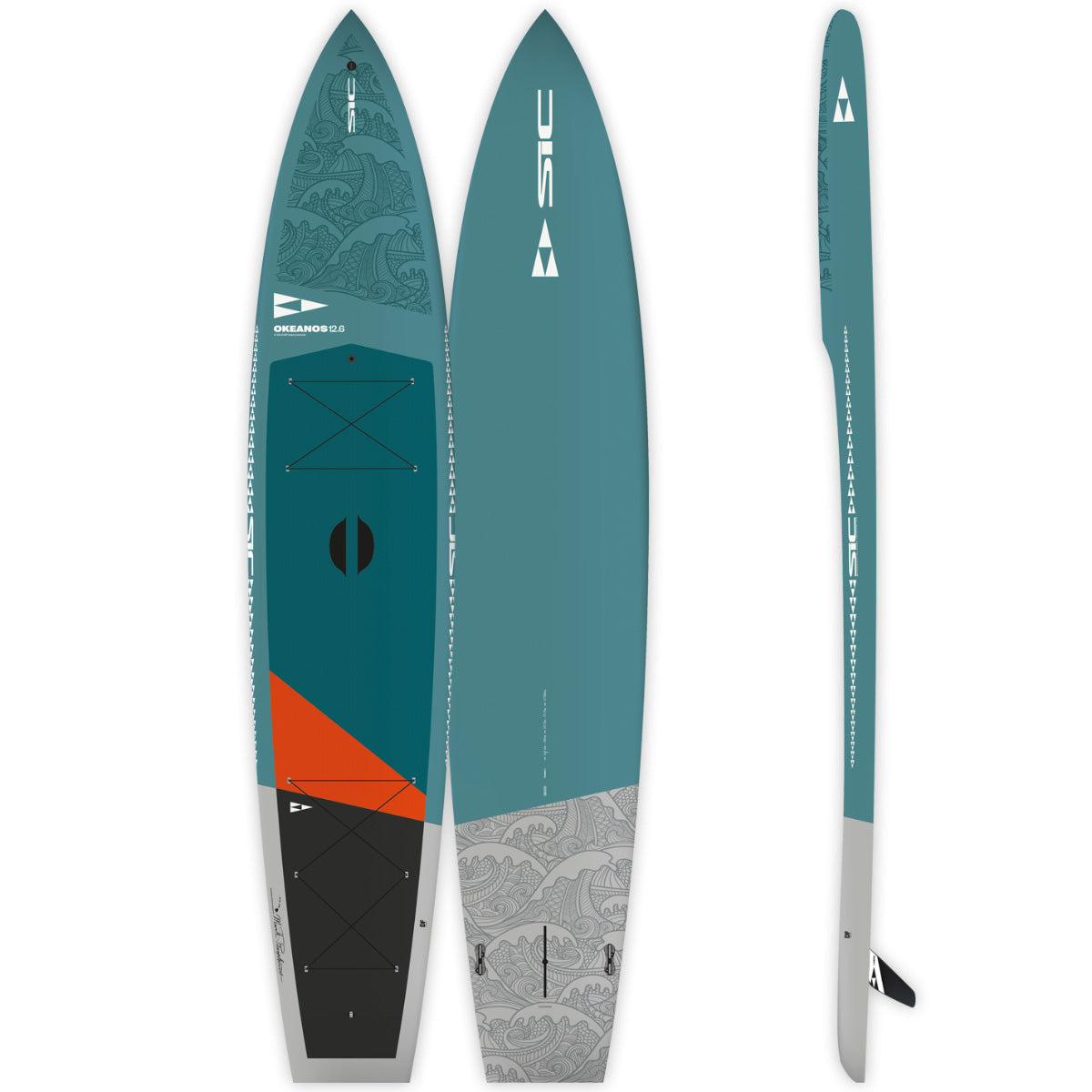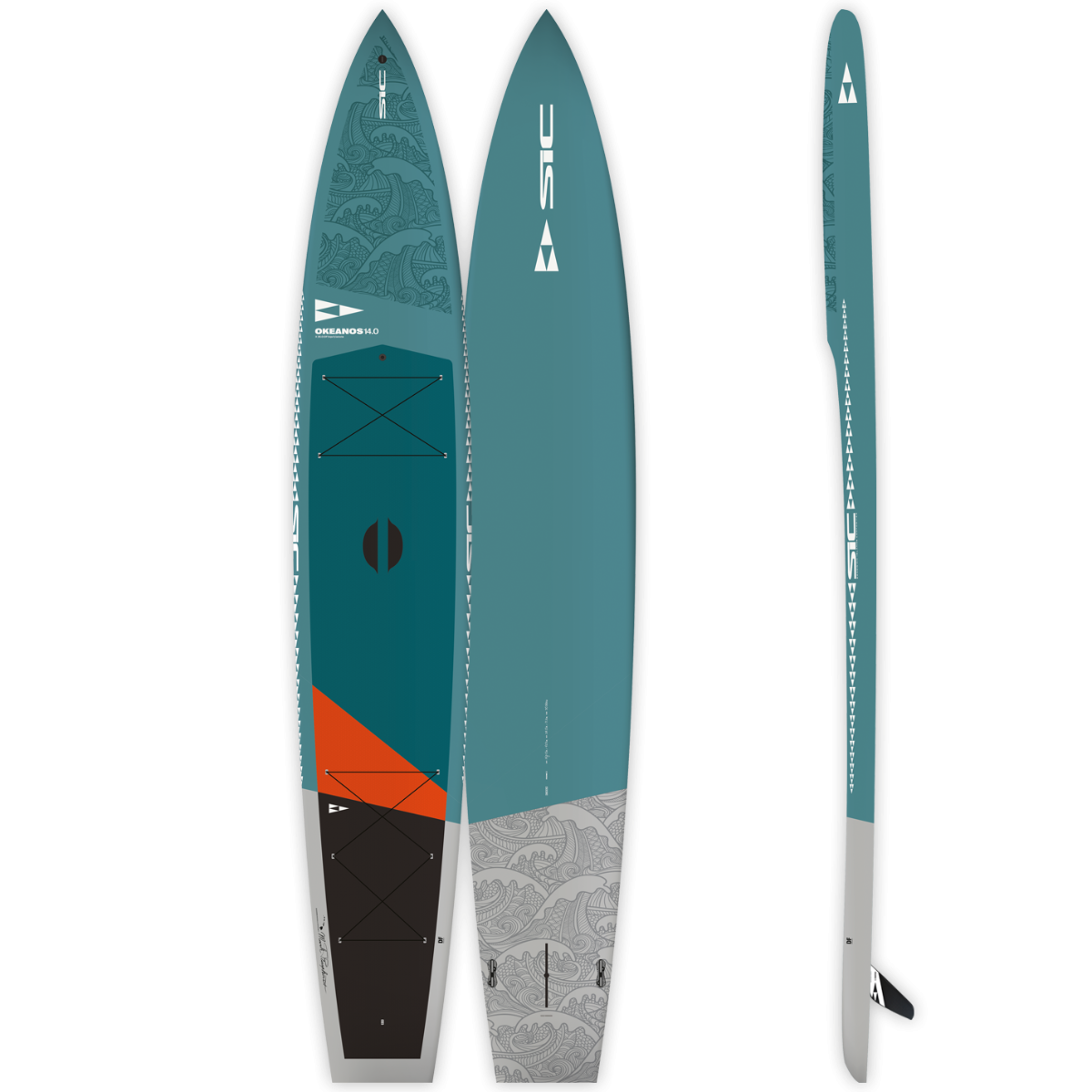 SIC Okeanos DF Boards
Touring / Fitness / Adventure
--
The Okeanos is a fitness and touring board that has won awards such as the SUPConnect "Best Touring Board" and "Best Overall Board." This touring and fitness board paddles with ease and maintains a fast and efficient glide. The nose chine in the bow helps to soften the ride in rough waters and tracks extremely well under power in wind and cross-chop. The generous tail width and full, squared up rails help make this board very stable. The wide point in the board's front section has shifted forward, adding to the overall stability. The board has also been outfitted with numerous tie-downs to mount your cargo. It is super stable rail-to-rail making this a great board to fish off.
The Okeanos has a standard US Fin box for everyday SUP use. Additional side fins can be inserted for improved tracking and stability. The board can also be used alone with these side fins in shallow waters or if you need a stable platform on which to rest the board when loaded with gear.
The Okeanos is built in SIC's Dragon Fly (DF) construction which is constructed with a full oak wood veneer wrapping the core - tip-to-tail / 360-degree rail-to-rail wrap. This is arguably one of the most durably constructed composite boards on the market today and it remains at a very competitive weight and affordable price.

Features
WIDER WIDTH AND FULL RAILS
- For overall stability
8.3" WEEDLESS 3K CARBON FIN - For Excellent Tracking and Glide
2X FCS2 FIN BOXES - For removal of the center fin to accommodate shallow draft paddling
EZ-GRAB CARRY HANDLE - For easy transport and less fatigue
CROCODILE TEXTURED EVA DECK PAD - For traction and grip
BUNGEE TIE-DOWNS ON THE NOSE AND TAIL - Allows for maximum gear-hauling and versatile setup
LEASH PLUG - To connect a leash for safety
GORE-TEXTM BREATHER VENT - Allows board to breathe and prevent delamination
ACTION CAMERA MOUNT ON THE NOSE. - To capture your adventures on the water
Specifications

Length: 12'6'' / 381 cm
Width: 29'' / 73.7 cm
Volume: 275 L
Thickness: 7.4'' / 18.8 cm
Weight: 30.2 lbs / 13.7 kg
Max Riders Weight: 240 lbs / 110 kg
One Foot Off Nose: 13.8'' / 35 cm
One Foot Off Tail: 20.1'' / 51 cm
Handle Type: SIC EZ GRAB
Finbox Configuration Set Up: Single US box + 2 FCS FUSION
Supplied fin(s): Weedless 8.3"
Product Type: Rigid composite
Technology: Dragon-Fly
Country of Manufacture: China
Length: 14'0" / 426.7 cm
Width: 28" / 71.1 cm
Volume: 305 L
Thickness: 7.5" / 19.1 cm
Weight: 32.1 lbs / 14.6 kg
Max Riders Weight: 275 lbs / 125 kg
DRAGON FLY (DF) Technology
The DF construction with a full oak wood veneer wrapping the core - tip-to-tail / 360-degree rail-to-rail wrap replaces SIC's former TWC construction and takes strength and durability to a whole new level. This construction offers durability at a very economical price. The board is wrapped glass and with the full wood wrap on the rails replaces the need for Innegra™. These boards are also molded for strength and shape Consistency.
About SIC MAUI
Like many a master shaper Mark Raaphorst did his time and paid his dues before setting up his own repair shop. He got hooked on SUP as soon as they started to appear on Maui and he very quickly found a way to combine his knowledge of moulded technology with his new passion. Before long SIC boards were winning almost every race they entered.