Regular price
Sale price
£1,630.00
Unit price
per
Sale
Sold out
We have 1 in stock
Share
View full details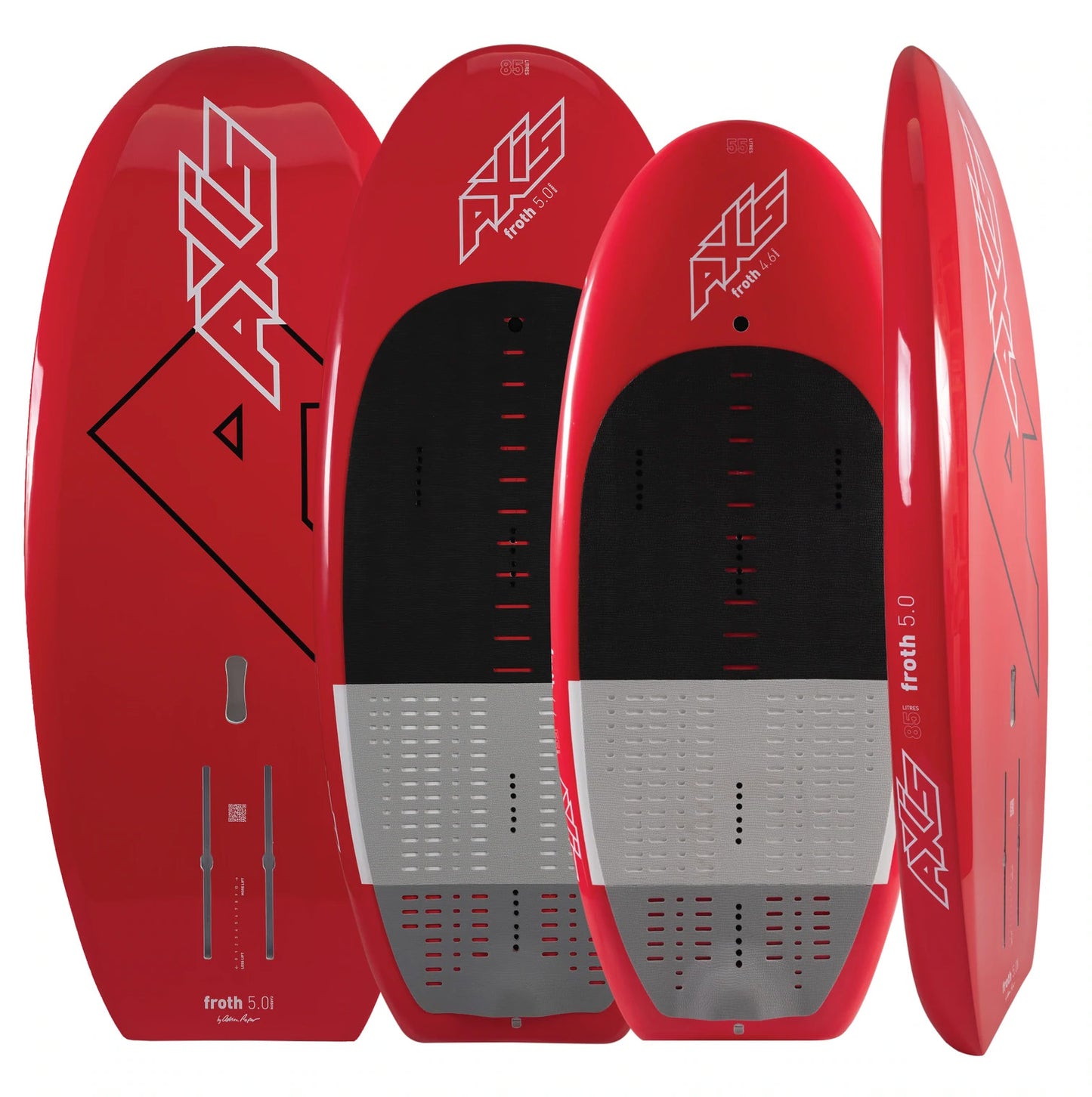 AXIS Froth Foil board
SUP foil board
--
AXIS Froth is the perfect balance between performance, early lift and ease of ride – a stable platform that packs plenty of volume into a short length to reduce swing weight and increase your fun while SUP or wingfoiling.
With our newest Froth we've made some important design changes – reflecting the movement towards higher aspect, lower drag foil designs that require more speed to lift-off.
We've eliminated the angled chisel on the tail. This increases the length of the planing surface to add sub-foiling speed potential.
We've also reduced the rail bevel – in fact it now fades out completely before the tail adding more width to the planing surface and straightening the water flow for even faster acceleration up to foiling speed.
Also noticeable is the pulled in nose with rounded outline, to reduce the chances of catching in rougher water, compared to the more square nose from 2021. We've increased the thickness and volume up here too, to maintain a balance in buoyancy that will give you stability when on your knees or stepping up to get going.
A new deck concave gives your feet and toes improved leverage when initiating turns, while feeling safe and secure in a straight line when riding without straps. Our unique tail pad design ensures any water captured in the concave, flows freely out the back.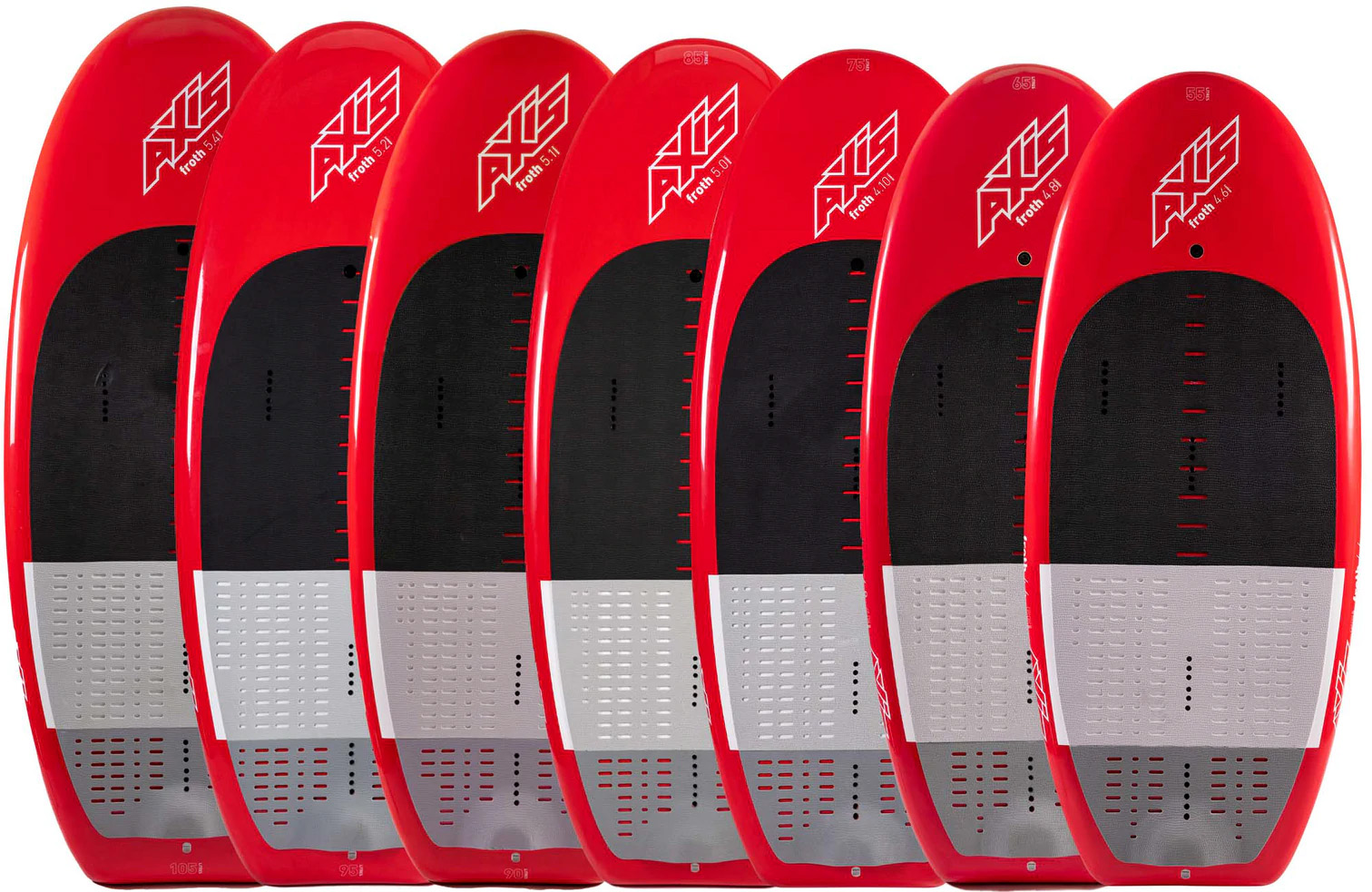 How to size your Froth
Unique to Axis is the large range of sizes that will ensure you can achieve the volume that's right for you. For wingers starting out, we recommend 20-40 litres more than your body weight in kilograms. Intermediate riders should drop down to roughly the same litres as their body weight (or 10-15 litres above), while advanced riders can go as small as you dare – the only limit is your athleticism and the steadiness of the wind conditions. If it's gusty, stay closer to your body weight in litres. SUP foilers will naturally gravitate to the largest sizes in the range.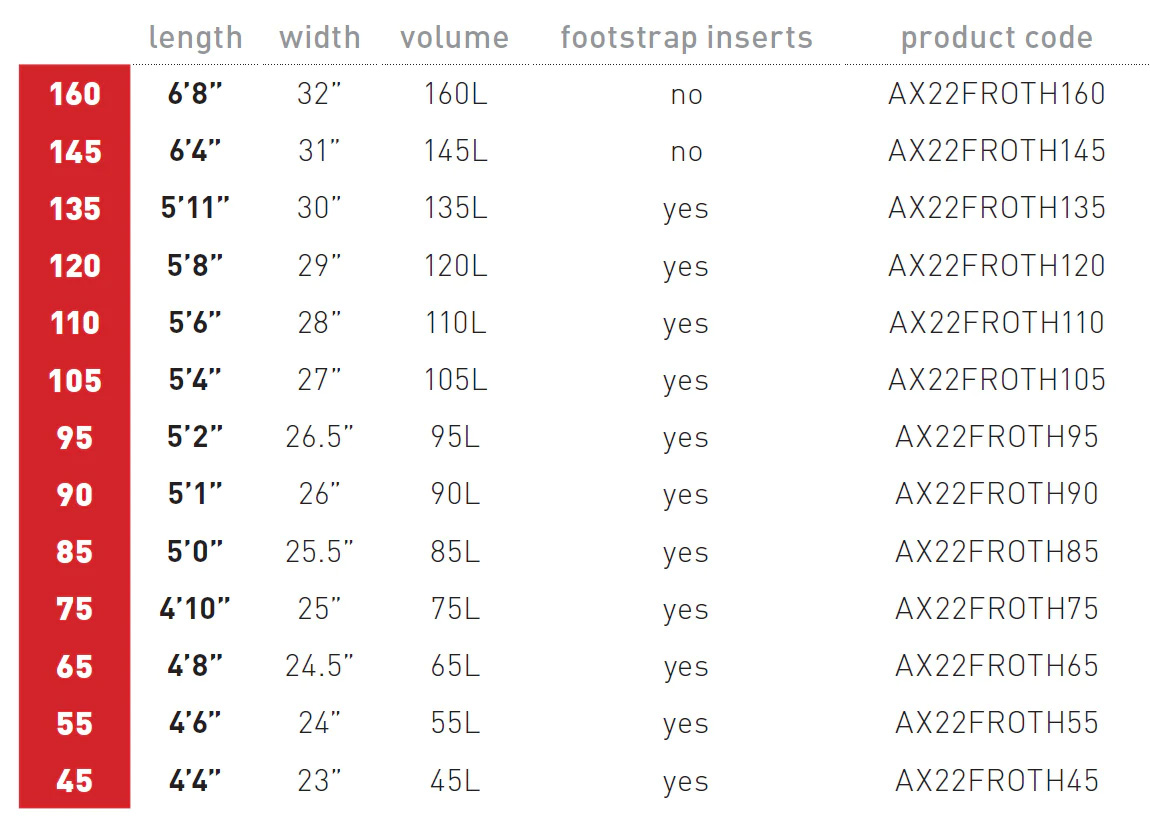 About AXIS
Adrian Roper began shaping kiteboards in 1998. He was a pioneer and created many of todays design standards. He has shifted focus to foils and continues to lead the way.
AXIS. For wherever your foiling journey takes you.
From that first flight across a lake or harbour with a hand wing, or that initial lift off on a wave or behind a boat or ski, you're hooked. Flying. Fast and free. Smooth and quiet. There's no other feeling like it. And whether you foil across a number of water sports or prefer to focus your progression on one, AXIS will be with you every step of the way. Our range of masts, foils and fuselages is both extensive and inter-changeable, making it easy to maximise enjoyment and performance in your chosen foiling mode.