Regular price
Sale price
£3,195.00
Unit price
per
Sale
Sold out
We have 2 in stock
Share
View full details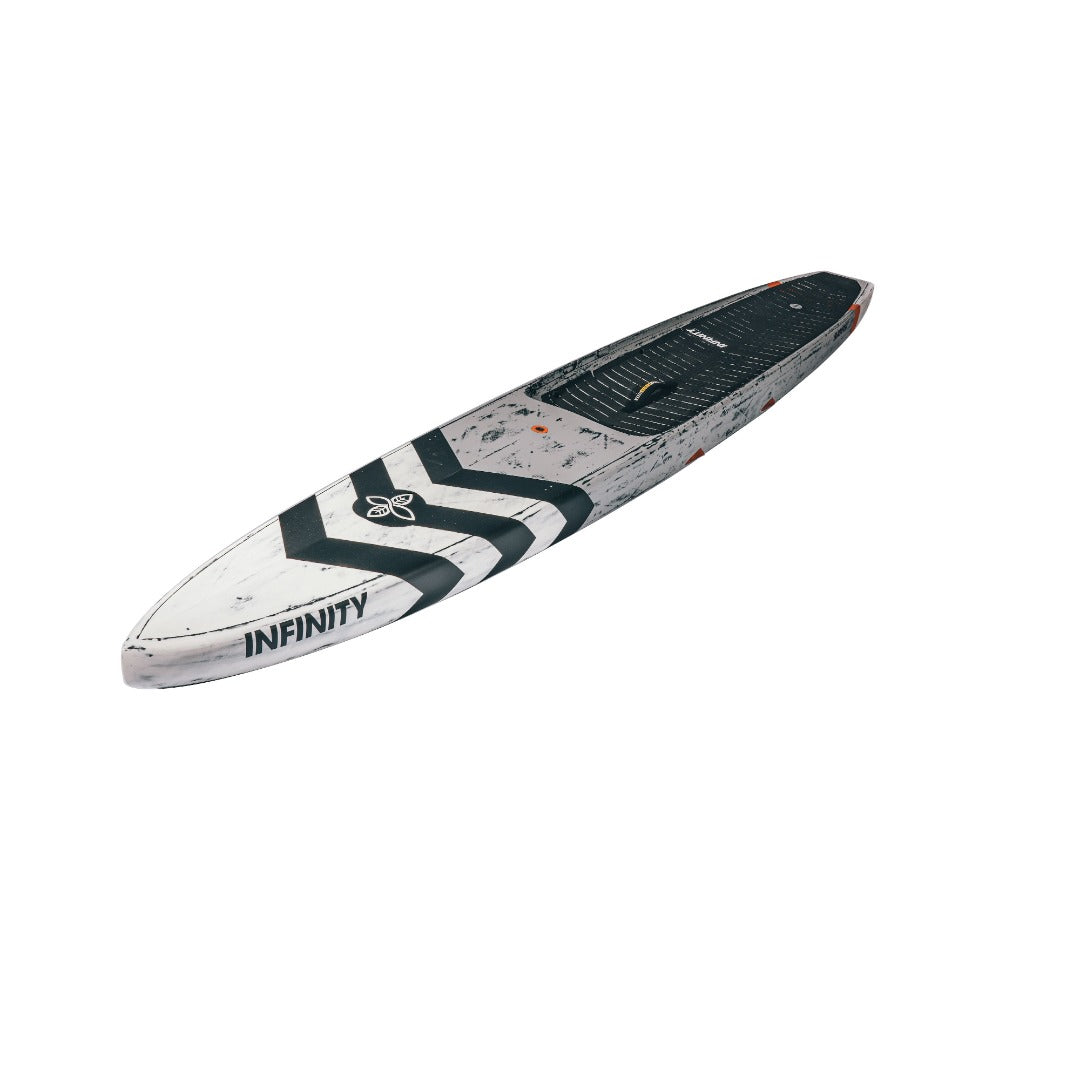 Infinity Blackfish 14ft Dugout
All Around / Pro Level Speed / All Water King / Dugout 
 The all-new Blackfish is one of the most anticipated boards Infinity have ever made. They're always pushing the limits of the all around race design and this latest version by renowned SUP designer Dave Boehne bleeds the lines of all around versatility and flat water speed.
This "dugout" version takes Blackfish deeper into the elements. Taller nose, taller rails and lower paddling experience. The dugout design allows Blackfish to have increased upwind capabilities, smoother downwind bump riding, and side chop navigation. Some paddlers prefer the dugout style even in flat water. It really is a personal preference type of thing. Both flat and dugout versions can handle all styles and conditions of paddling.
Blackfish got all new Team Elite Carbon construction in that the entire EPS foam core is built with a PVC shell then wrapped in carbon fiber which resulted in the lightest and even more durable Blackfish boards we have ever made. We feel it offers the best strength to weight ratio in the market. Infinity is known for our quality and the level has been taken up another notch.
The Blackfish is the All-Around king and has influenced an industry with the original hybrid planning hull surf concepts applied to SUP race designs.
This board has showed it's versatility year after year winning multiple world titles, gold medals, flatwater sprint wins, flat water distance wins, and of course too many victories in the ocean and surf races around the globe.  Piloted under the feet of some of the words best Candice Appleby, Itzel Delgado, Juliette Duhaime, Tyler Bashor, Shae Foudy, Bernd Roediger and Kai Lenny. Just to name a few of the FREAKS!
Blackfish is the fastest board off the line, stable in all conditions, and a true one board quiver to conquer anything mother nature throws at you.
Many top board manufacturers have adopted the centre channel concept originally developed by Infinity in 2014 and now with input from the team of SpeedFreaks everyone is still playing catch up. This Blackfish is like no other and features a completely re-designed nose and bottom update which takes the DNA of the Blackfish to the next level.
The NEW nose is a big deal and the first design change to the nose since it's inception. The nose got taller, sharper, and has a more aggressive peak in the deck forming the shape of the nose. At first glance the nose looks upside down. 
The idea was to increase the efficiency of the board specifically in upwind conditions. The nose is taller with a sharper entry which "stabs" the swell in front while providing a finer and more quieter entry in flat water which translates to increased flat water glide. Increased efficiency grinding into chop plus flat water glide? CHECK
The bottom is a planning hull hybrid and is able to paddle in all conditions. The stability is built through the outline. The bottom features a rolled hull framing a unique inverse vee panel that releases cleanly off the flat tail exit behind the fin. The soft rounded hull moves and slips through the water rather than parting it. This makes for very fast "get up and go" and non governing max sprint speeds. "Like skipping a stone" Blackfish likes to sprint off the line.
If you paddle mostly in the ocean or in water that generally gets wind and chop and that gets changing seasons and conditions Blackfish Dugout is for you and will be ready.
14' x 21.5" x 269L = 22.5lbs (10.2 kg) recommended MAX rider weight 170lbs / 77.1kg

14' x 23 x 288L = 24lbs (10.88 kg) recommended MAX rider weight 200lbs / 90.7kg

14' x 24.5" x 310L = 25lbs (11.33 kg) recommended MAX rider weight 220lbs / 99.7kg

14' x 27" x 341L = 26.5lbs (12.02 kg) recommended MAX rider weight 250lbs / 113.3kg
About Infinity
Infinity have been building surfboards since the 1970s. They are a family run business out of Dana Point, California. One thing that has always set them apart has been their willingness to build all kinds of watercraft and not being limited to just surfboards. Whether that meant tandem boards or wave skis in the early days, or today SUPs and Foil boards. Their designs have always been about pushing limits and they have always loved making boards fast.