Regular price
Sale price
£1,500.00
Unit price
per
Sale
Sold out
Share
View full details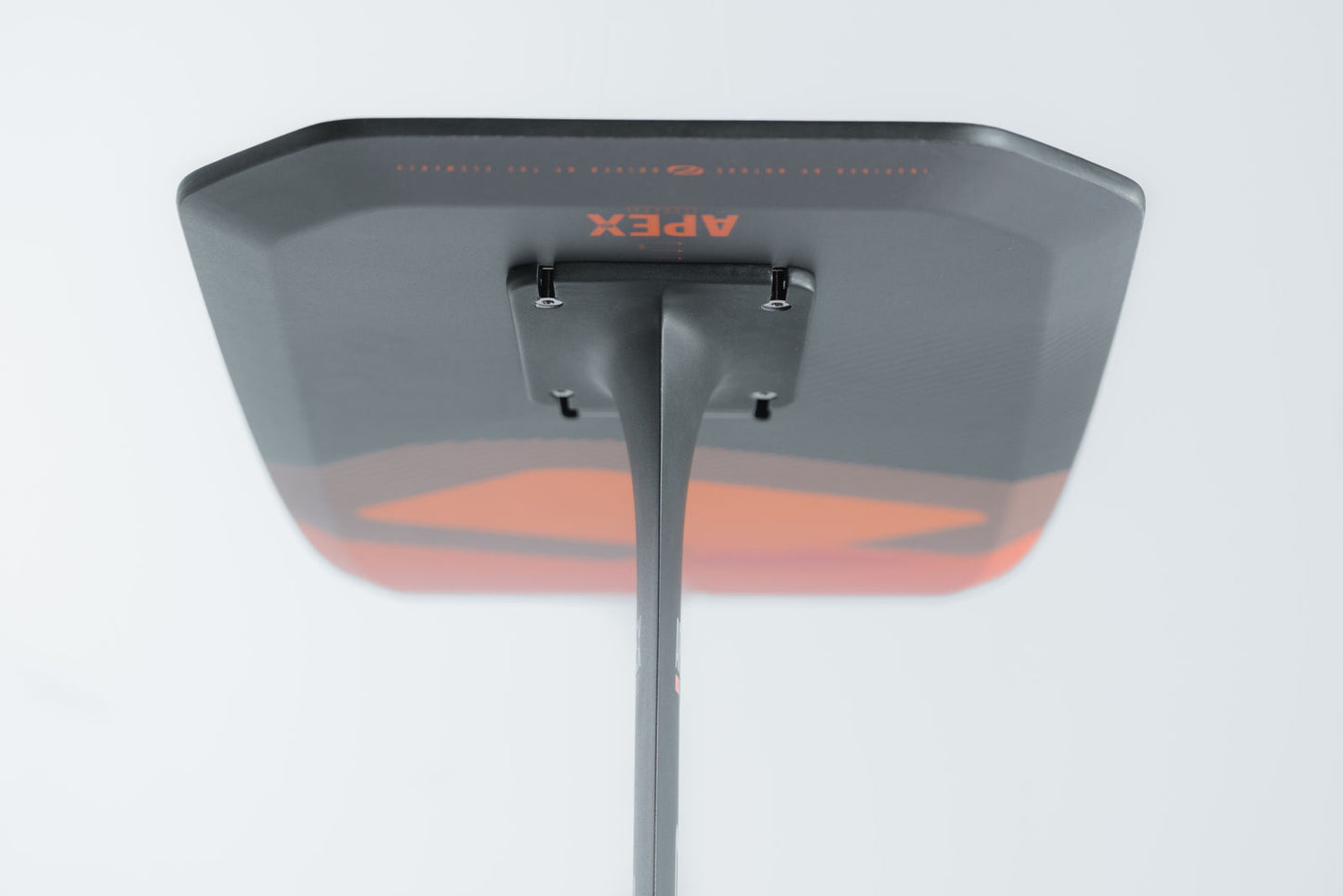 Ozone Apex V1 Complete Kite Foil
Performance Freeride Foil
THE APEX PERFORMANCE HYDROFOIL IS DESIGNED PRIMARILY FOR KITE FOILING WITH ENDLESS POTENTIAL FOR FREERIDE CRUISING, JUMPING, CARVING THE FLATS AND WAVES OR RIPPING AS FAST AS YOU POSSIBLY CAN!
The Apex hydrofoil perfectly matches with the Apex board, both are designed and built ultra tough using top of the line materials and construction techniques.
Front Wing LA1200:
The LA1200 has a low aspect ratio with a generous amount of sweep making the wing alive to ride while being super stable. The self-righting moment produces a huge amount of pitch stability. Hours of CFD allowed us to design a unique section profile with a high lift to drag ratio and late stall point. The LA1200 takes off early, keeps you up foiling at low speeds and can still go relatively fast for a 1200cm2 sized wing - our team riders have pushed it up over 25kts. A carbon fiber layup around a lightweight foam core with a full carbon monolithic centre section provides a light and strong platform.
Rear Wing MA315:
The MA315 is designed to produce a balanced amount of pitch control and speed. It features a medium aspect ratio with 315cm2 area, with side winglets helping to control yaw movement. The wing is built light and strong using a full carbon fiber layup.
Mast 90cm:
Our unique mast construction features a hybrid core using a combination of high-density foam polymer and wood - during our R&D process we found this was the optimum combination for incredible shear strength to weight ratio. The lamination is comprised of a Quadraxial Carbon fiber matrix with high modulus epoxy resin creating superior rigidity in flex and in torsion. The tapered outline adds extra strength without compromising speed. A slotted baseplate design allows easy fitting to the board. Titanium Barrel Nuts embedded in the mast provide durability and maximum strength at the mast to fuselage connection.
Fuselage 68cm:
Constructed for maximum stiffness and strength from a full carbon mono block. Our unique Beamed Tuttle Box design increases strength at the mast to fuselage connection. Titanium Barrel Nuts embedded in the fuselage provide durability and maximum strength at the front and rear wing connections.
Surface finish:
All carbon parts are finished with an ultra high quality hydrophobic coating used in performance marine environments such as Americas Cup racing yachts. This unique coating provides UV protection to the carbon laminate and an optimum surface finish, laboratory test results show a 15% less drag coefficient compared to a high gloss surface.

Titanium Hardware:
All screws and barrel nuts are CNC machined from GR5 Titanium with a Torx head fitting, guaranteeing zero corrosion and ultimate strength. Each complete Apex V1 foil is supplied with a Torx Key.

Rear Wing Shims:
Rear Wing Shims are for experienced riders looking to adapt the speed, stability and maneuverability to their personal preference. These fit between the Rear Wing and Fuselage to adjust the AOA (angle of attack) of the Rear Wing. The Apex V1 complete foil kit includes -0.5deg, -1deg and -1.5deg shims.

The Apex V1 Rear Wing MA315 is factory set at the most stable configuration without a shim to provide incredible pitch and roll stability at slow to medium speeds, combined with enough front foot pressure to assist in learning maneuvers.

In general the performance effects of using negative degree shims to reduce the AOA are:



increased top end speed and glide performance


front foot pressure decreased, back foot pressure increased


decreased pitch stability



The higher the degree value, the greater the effects will be. We recommend starting with the -0.5deg shim, then decreasing the AOA progressively with the -1deg and then -1.5deg to feel the effects and find your preferred setting.

Entry level to intermediate riders - if you feel too much front foot pressure, before fitting a shim to adjust the rear wing AOA, we recommend first adjusting the position of your foil on the board by moving the mast backwards. This will reduce front foot pressure without deceasing stability of the foil

Protective Covers:
The Apex V1 foil kit comes complete with protective covers for the Mast, Front Wing and Rear Wing. Constructed with high quality materials, padded foam layers and velcro closures. The Mast cover includes a pocket for storing the Torx tool, screws and Rear Wing Shims.



Features


Exceptional Ozone Factory Construction - World-class construction in our own factory, using the highest quality materials and hand checked Quality Control at every step. The Ozone factory also manufactures our Kites, Paragliders and Speed Wings; the same Quality Control processes are used across all products.


High rocker and bevelled rails - A forgiving outline and large surface area makes takeoff and transitions easy, while the high rocker and beveled rails smoothen touchdowns and reduce catching or nose-diving.


Lightweight low volume design - The lightweight (approx. 3.1kg) low volume design allows riders to keep the board on its side for effortless strapless water starts.


Dual slot mounting system - The unique dual slot mounting system with our custom low profile Titanium T-Nut Deck Washers provide an incredibly strong mast to board connection and makes for quick and easy adjustment of the mast position.


Low profile titanium T-nut deck washers - The T-Nut Deck Washers are compatible with M6 bolts to mount various foils on the Apex board.


EVA deck pad - A large EVA deckpad provides comfortable grip for strapless or strapped riding.


Optional extras


Apex Straps - The Apex foot straps are ergonomically designed featuring Ultralon Performance Foam® and plush neoprene for the ultimate in comfort and control while providing a precise fit. Ultralon foam has an exceptional resistance to packing out, it doesn't compress over time and has an outstanding formability enabling anatomical adaptation. These are available as a Y strap configuration (3 straps) or T configuration (2 straps).


Apex V1 Board Bag - A high quality board bag perfect for day-to-day board protection and travelling lightweight.


About Ozone
Ozone is one of the world's leading manufacturers of Kites and Paragliders, created around a dedicated team of passionate riders and pilots that share the same outstanding passion for nature, exciting sports and progress. Their development of their own manufacturing facility and bespoke design software together with their commitment to offering full product life cycles makes them stand out.