Regular price
Sale price
£930.00
Unit price
per
Sale
Sold out
We have 1 in stock
Share
View full details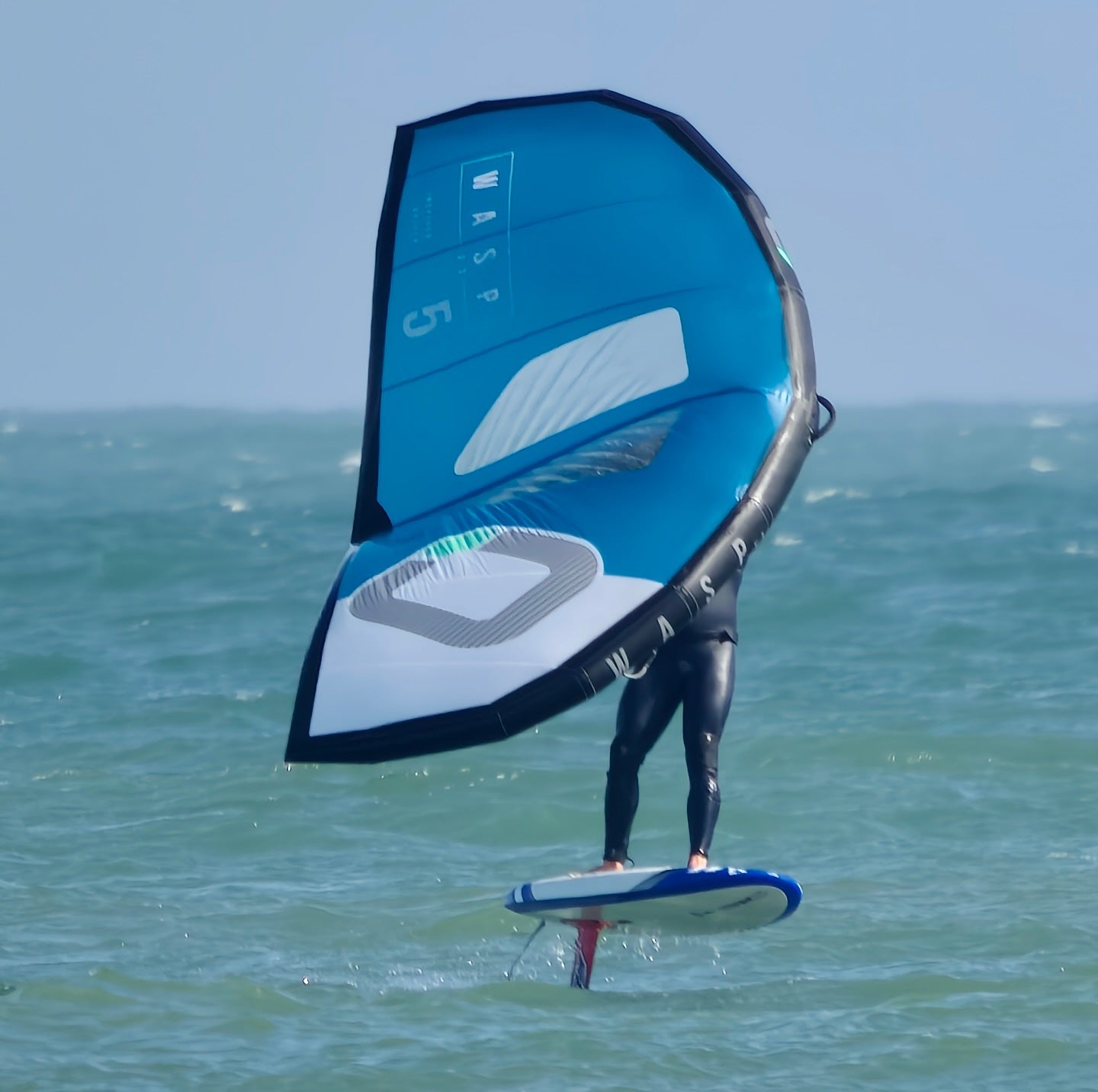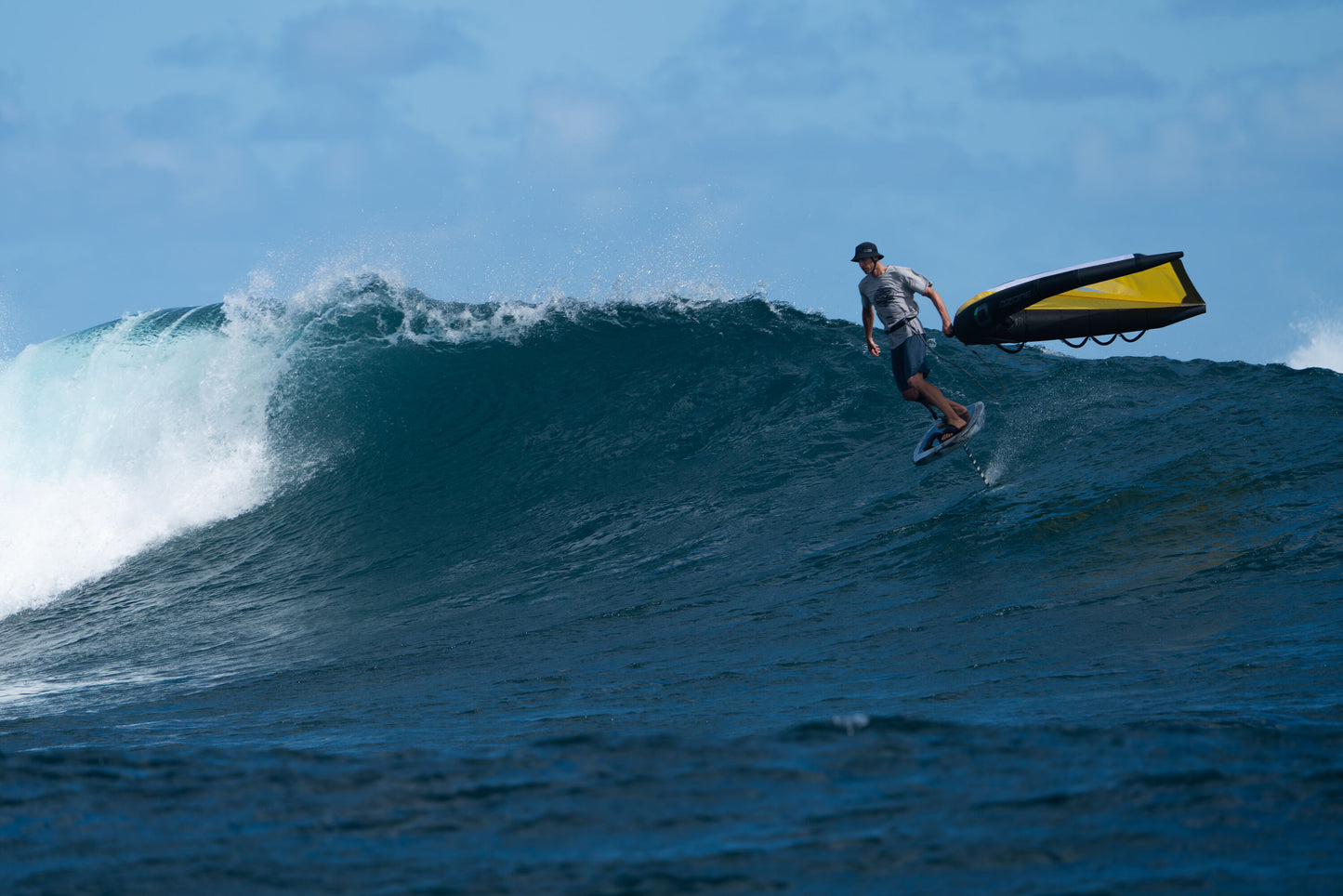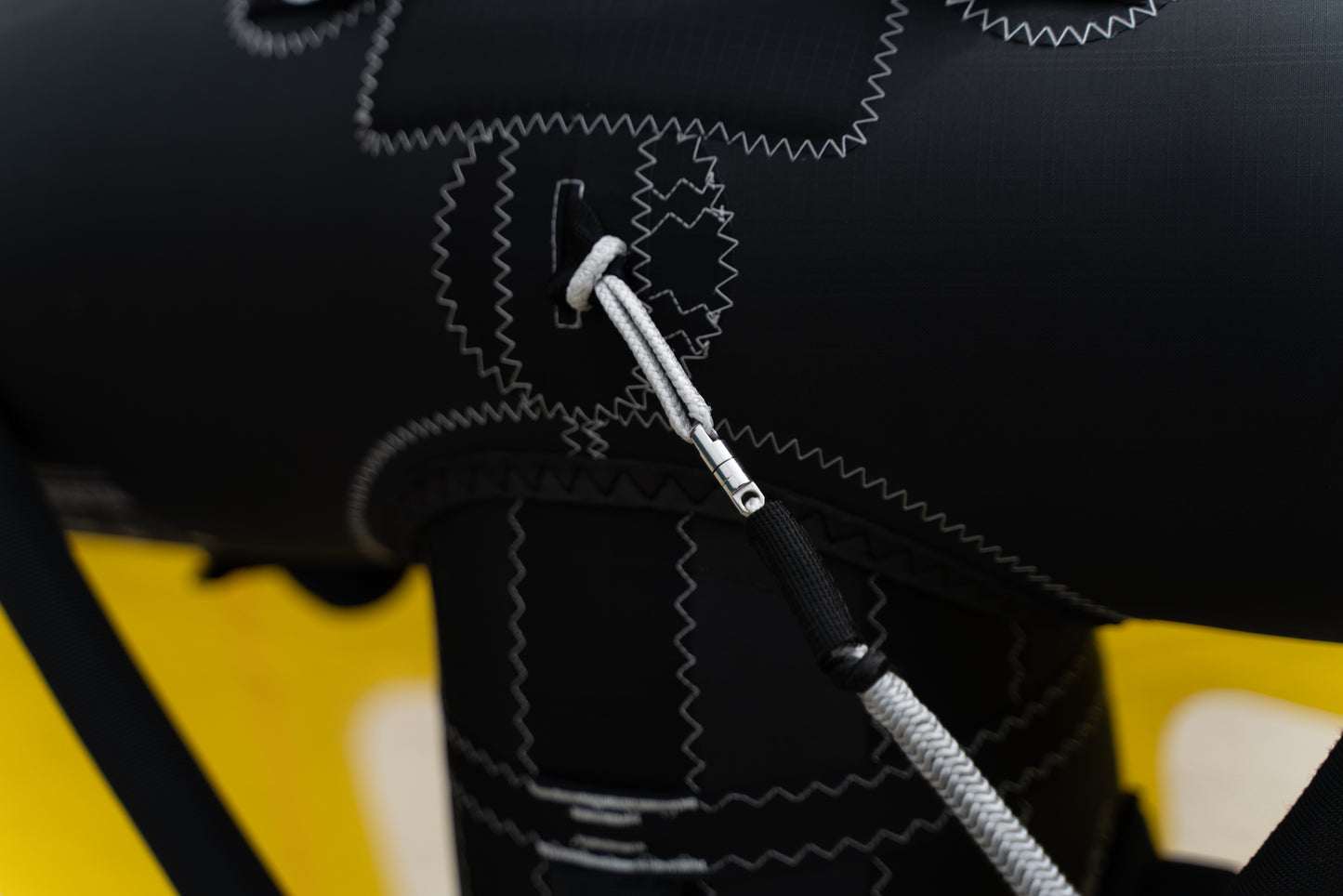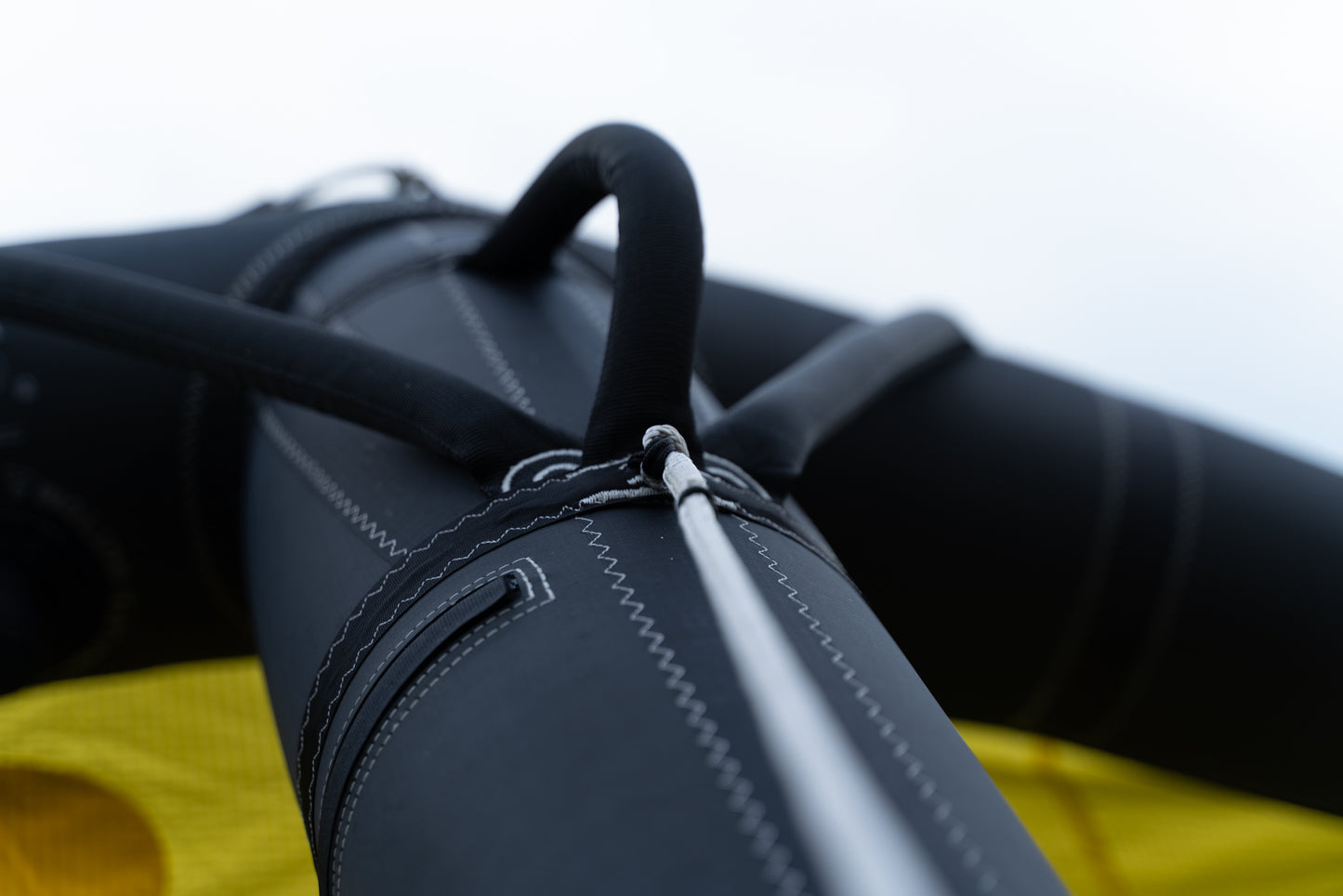 Ozone Wasp V3
The WASP V3 is Ozone's all round performance wing - it does what it says on the can. Whether you are just getting going or getting more into the waves the WASP can handle.
Ozone Says:
The WASP V3 is an amazing all-round performance wing excelling in any condition and all disciplines. It is lightweight, simple to set up and easy to use with improvements to the power handles, de-power surf handle, windows, waist leash strap, canopy material and an updated size range.
All Round Performance Wing
Hand held Wing for water, land or snow sports
Lightweight inflatable design
Simple to set up and use
Stable with efficient power
The WASP V3 is an amazing all-round performance wing excelling in any condition and all disciplines. It is lightweight, simple to set up and easy to use with improvements to the power handles, de-power surf handle, windows, waist leash strap, canopy material and an updated size range.
From freeride cruising, wave riding, boosting air tricks, down winding or just starting out, the WASP V3 is ready to shred!
Innovative Leading Edge and Strut
Our innovative Leading Edge and Strut design provides a stable airframe with minimal flex, delivering a solid, direct and well-balanced feeling. This rigidity also helps develop power at low speeds to get you powered up and planing sooner. Our new overlap flat seam construction improves sail control resulting in an overall cleaner canopy.
New Ergonomic Power Handles
New Ergonomic Power Handles on the Leading Edge and Strut feature an updated stiffer design to provide maximum control and comfort. The De-Power/Surf Handle at the front of the Leading Edge has been redesigned for increased control when flying the wing single-handed and features new soft knuckle padding for extra comfort.
Easy Inflate
Fast Flow Air Valves on both the Leading Edge and Strut makes inflation, deflation and packing a breeze.
Proven Planform and Tip Shape
The planform and tip shape reduces interference with the water or ground.
Lightweight Scuff Protection
Lightweight, durable scuff protection is integrated for riding on snow or land, although it is best to keep the wing off the ground at all times!
Bigger Windows
Increased size windows on both sides of the strut provide safety for you and others around.
Any Board, Any Surface
The WASP V3 is suitable for riding any type of board on the water that has enough volume to support your weight. In strong wind conditions and with developed skills it is possible to ride with smaller volume hydrofoil boards. On the land or snow minimal wind is required to harness the natural energy to enjoy a different feeling of propulsion.
New triple rip-stop material Combination
The WASP V3 features a new triple rip-stop material combination. The new triple rip-stop canopy material has an advanced coating to increase strength, rigidity and durability while improving feedback to the rider for a more direct feel of the wing.
Super Tough Dacron
The technical triple rip-stop dacron is super tough, used on the Leading Edge and Struts it has superior strength and durability.
Shoulder Padding
For the V3 we have updated the bag adding a second adjustable shoulder strap plus double layer foam padding for carrying a board and foil over the shoulder.
Modular Leash
Our modular leash system can be customized for rider preference. The WASP V3 ships standard with a Waist Strap pre-attached to the Leash Line. The updated waist strap now includes an additional velcro closure running over the buckle to take stress off the buckle when highly loaded. Leash system accessories (sold separately) are a velcro Wrist Strap or a Quick Release for use with the supplied Waist Strap or for connecting the Leash Line to a harness.
Combine with Connect Wing Harness
Combine with our Connect Wing harness for the ultimate set up. Note: to use the WASP V3 with the Connect Wing Harness it requires our specially designed WASP V2/V3 Harness Line (sold separately). See the Wing Leash System and Harness Line PDF/video for further information.
Harness Line
For riders using a harness, webbing loops next to the strut Power Handles provide quick and easy installation of the WASP V3 Harness Line – a slim and lightweight design with an internal bungee contracting when unhooked to stay out of the way.
Performance Features
Exceptional Ozone Factory Construction – World-class construction in our own factory, using the highest quality materials and hand checked Quality Control at every step. The Ozone factory also manufactures our Paragliding and Speed Wing range; the same Quality Control processes are used across all products.
Designed With OZ-CAD – The FUTURE is NOW – All Ozone kites are designed and developed using our own highly advanced custom built CAD software. Our designers are able to work with features specifically tailored to the unique forms and structures of technical Inflatable and foil kites. Part of our design team is dedicated to the upgrade of the CAD code and addition of new modules and features to the program as the development of our kites continues.
Internal reinforcements – What's on the inside counts too – All Ozone kites are internally reinforced for improved strength and durability; such as a Double layered Dacron + Insignia taped Leading Edge closing seam with high strength threads.
Double Stitched Folded Seams – Sail canopy seams are stitched, folded, and then stitched again for a clean and strong connection of the panels.
Direct Connect Struts – Our Direct Connect construction method improves load distribution between the Leading Edge, Struts and Canopy. The Struts are connected directly to the Leading Edge with internal reinforcements and external webbing. This unique construction method ensures clean profiles are maintained with the optimum canopy tension
Reinforced Trailing Edge –Double layer Trailing Edge strip with an internal light weight Dyneema reinforcement – this reduces canopy wear and helps to maintain optimum Trailing Edge tension as designed. The Dyneema line also reduces any potential stretch at the Trailing Edge.
Low profile aerodynamic Scuff Pads – Leading Edge bumpers are often large and unnecessary cosmetic items. At Ozone we build our kites for performance and durability using the best materials & components available. Any areas requiring scuff protection we use a lightweight durable material with superior abrasion resistance, while keeping a low profile in order to reduce drag and maintain performance.
Unique bladder construction – Our bladders are constructed in-house with advanced custom built welding machines. Double layered sections are applied to any potential wear areas.
Ergonomic Power Handles - Multiple Power Handles on the Leading Edge and Strut have been positioned to cover many options, providing maximum control and comfort while riding.
Streamline Depower Handle - The streamline De-Power Handle at the front of the Leading Edge completely de-powers the wing for total control when carving downwind in swell or when carrying the wing.
Easy View Windows - Easy view windows on either side of the strut provide safety for you and others around.
Swivel Leash Line - The Leash Line features a strong Dyneema line with internal bungee core and an ultra light Stainless Steel swivel to keep the leash twist free. It connects to the wings Leading Edge via a loop-to-loop connection and can easily be removed if necessary.
Wing Waist Strap - The Waist Strap is slim and lightweight with a strong buckle closure and size adjustment buckle. It connects to the Leash Line via a loop-to-loop connection. If you become overpowered or lose control let go of the wing and it will de-power on the Leash Line. Our wings ship standard with a Waist Strap pre-attached to the Leash Line.
Wing Quick Release - The easy to use Quick Release is for riders who prefer extra security to detach from the wing in a fast and easy way. It is compatible with the Wing Waist Leash or a harness. The Wing Quick Release is sold separately.
Wing Technical Bag – Lightweight with loads of space, Internal stash pocket, External pump holder, Adjustable shoulder strap, Back panel foam padding provides extra comfort
Wind Range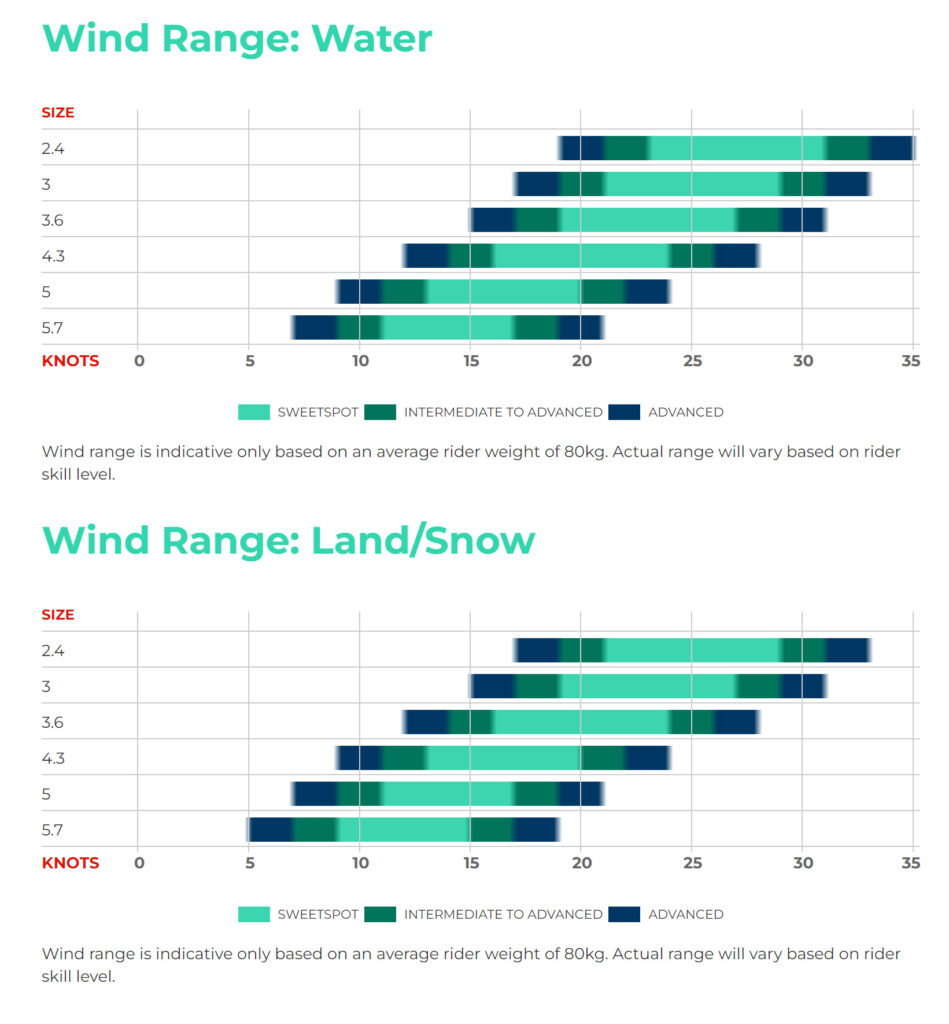 Specifications
| | | | | | | |
| --- | --- | --- | --- | --- | --- | --- |
| Kite Size | 2.4m | 3m | 3.6m | 4.3m | 5m | 5.7m |
| Weight (Kg) | 1.6 | 1.8 | 2.0 | 2.3 | 2.5 | 2.8 |
| Number of cells | 8 | 8 | 8 | 8 | 8 | 8 |
| Projected Area (m2) | 2.35 | 2.9 | 3.54 | 4.33 | 4.9 | 5.6 |
| Projected AR | 2.3 | 2.3 | 2.3 | 2.3 | 2.3 | 2.3 |
| Flat AR | 2.2 | 2.2 | 2.2 | 2.2 | 2.2 | 2.2 |
| Root Chord (mm) | 1390 | 1550 | 1700 | 1860 | 2000 | 2195 |
| Span (mm) | 2300 | 2570 | 2825 | 3090 | 3320 | 3555 |
About Ozone
Ozone is one of the world's leading manufacturers of Kites and Paragliders, created around a dedicated team of passionate riders and pilots that share the same outstanding passion for nature, exciting sports and progress. Their development of their own manufacturing facility and bespoke design software together with their commitment to offering full product life cycles makes them stand out.