Regular price
£1,259.00
Sale price
£599.00
Unit price
per
Sale
Sold out
We have 1 in stock
Share
View full details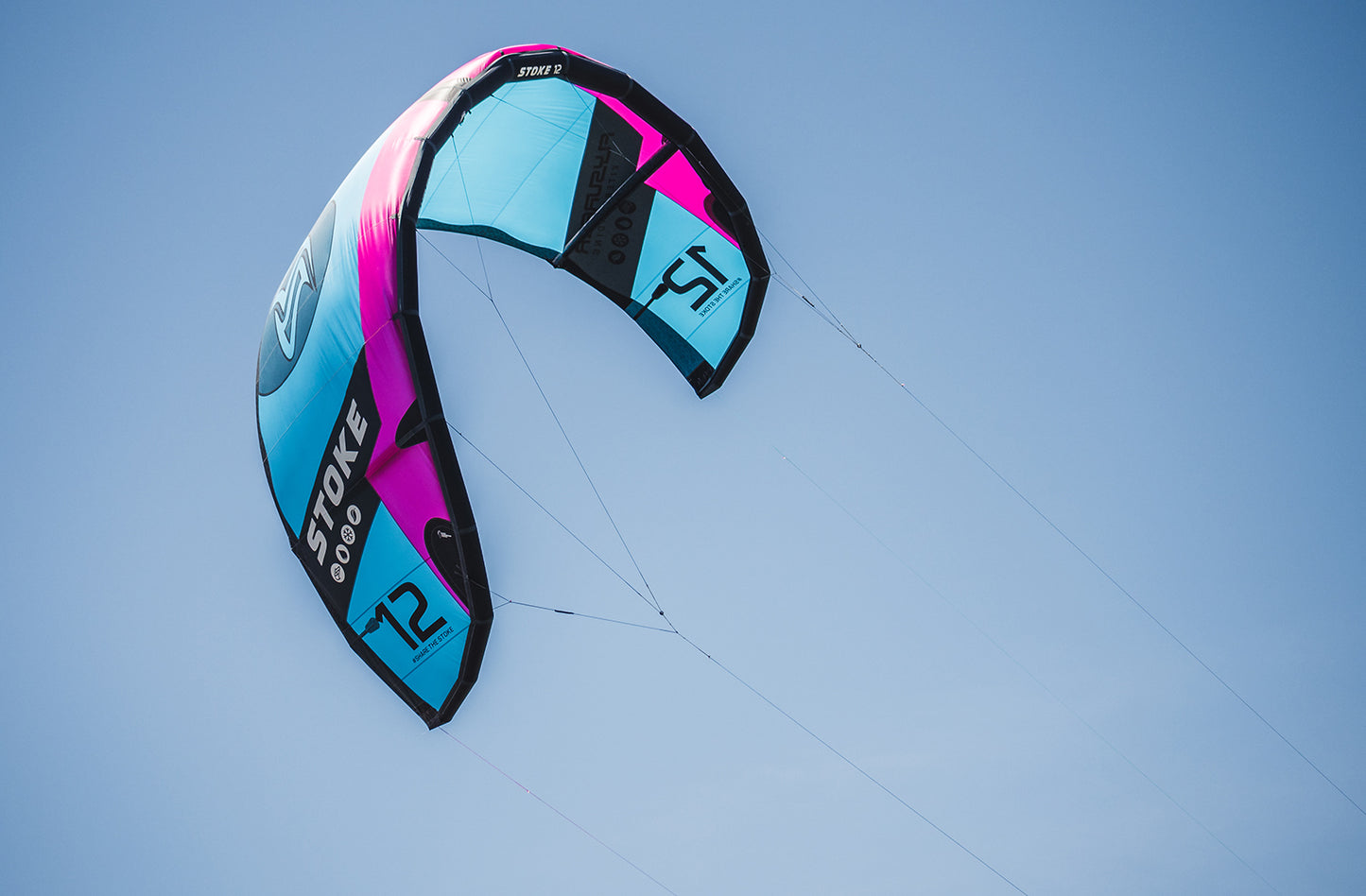 Flysurfer STOKE
The STOKE is powerful, precise and super-responsive. A superb bar feel gives you full control to throw big loops, shred massive waves or unleash its explosive pop. An easy choice for riders who like unhooked-freestyle, wave riding or gnarly big airs. Try the most radical FLYSURFER kite... share the stoke!
The STOKE is a super responsive 3-strut medium aspect ratio inflatable kite – a true all in one product. Its versatility is blended with technical features. The 3-Stage Simple Bridle opens up a world of riding options, offering you the opportunity to tune the kite to your favorite riding style. Choose between Wave, Freeride or Freestyle mode and take your wave riding to the next level, throw your biggest loops or improve your technical unhooked moves.
The High Load Force Frame provides superb durability and withstands the hardest impacts. A well balanced high quality material mix further extends the STOKE's performance and incredible stability in any given condition. High stress areas are reinforced with extra double ripstop layers. Built for progression, the STOKE is extremely user friendly, simple to set up and easy to relaunch. Precise handling blended with smooth power delivery gives you the confidence to push your limits. Every size's construction, weight and aspect ratio is optimized and trimmed to give you the best performance possible.
If you are an ambitious rider who wants to redefine the limits and progress with ease – this is the kite you are looking for. Share the STOKE!
Features
3-Stage Simple Bridle - The 3-Stage Simple Bridle gives you access to an Open-C shape freestyle kite or a super-responsive freeride kite with good drift. Kite speed, bar pressure and steering force is a matter of choice. Simply adjust the STOKE to your personal preferences. Ride the way you love it.



Wave Mode: We recommend the Surf Mode for riders who enjoy riding big waves or strong winds. This setting gives the kite more depower and increased bar force.




Freeride Mode: This setting covers a large wind range, offers great stability, responsive turning and is perfect for kiteloops. We recommend the Freeride Mode for your big air session.




Freestyle Mode: If you want an explosive pop and great line slack for unhooked moves, choose the Freestyle Mode!




Power Transmission Surface - The Power Transmission Surface gives the STOKE its incredible responsiveness and allows very precise control. The fork bridle on the leading edge transfers the steering command very efficiently to the kite. The power is transmitted directly into the sail, the kite reacts immediately to the rider and creates a super constant pull throughout a kite loop.
High Load Force Frame - The high load force frame sets the standard for FLYSURFER Kiteboarding L.E.I. kites and provides the necessary structure to keep the kite extremely rigid. We only use high quality materials such as Polyant 175LL Dacron for the front tube and struts and Teijin TECHNOFORCE D2 for the canopy.The materials are sewn together by a densely woven, high strength fiber from DuPont, which is fixed and tempered with resin. This creates a stable frame offering the smallest elongation (stretch), high tear strength, no moisture absorption, very good UV resistance and almost no deformation of the kite even at maximum load. The optimized shape of the High Load Force Frame results in a clear, clean air flow that improves the overall performance of the kite, its depower and flight stability.
Free Flow - The Free Flow valve allows the greatest possible airflow rate with maximum user-friendliness. By simply pressing a button, the valve is opened or closed comfortably, enabling fast, effortless inflation or deflating.
Self Launcher - With the reworked Self Launcher, we are offering you a tool to easily solo-launch the STOKE. Position the kite at the edge of the wind window, connect the sandbag (which comes with the kite), or any other bag and place this on the ground. Once the kite lines are tensioned the Self Launcher automatically releases safely at just the right moment.
All in One Kite - Perfectly balanced performance in any wind conditions. The lighter weight construction and higher aspect ratio of the 14.0m STOKE makes it a solid light wind machine for freestyle riders. At the other end of the spectrum the 6.0 and 7.0m STOKE are designed for strong winds – they feature a reduced aspect ratio and thicker lines, improving safety and creating a kite you can trust in gnarly strong winds.
Workmanship and 12 month Free Repair warranty by FLYSURFER - Each cloth, each line and each component has been tested extensively by FLYSURFER. We consciously make more work for ourselves in order to guarantee pure worry-free kite fun. When it comes to materials and components, we always go for quality and functionality over price. To back that up we offer you our 12 month Free Repair warranty by FLYSURFER.
Technical Data
| | 6.0 | 7.0 | 8.0 | 9.0 | 10.0 | 12.0 | 14.0 |
| --- | --- | --- | --- | --- | --- | --- | --- |
| Colour | orange/magenta | lime/magenta | cyan/orange | magenta/lime | orange/cyan | cyan/magenta | lime/cyan |
| Area (m²) | 6 | 7 | 8 | 9 | 10 | 12 | 14 |
| Area projected (m²) | 3.61 | 4.21 | 4.81 | 5.41 | 6.01 | 7.21 | 8.41 |
| Aspect ratio | 4.28 | 4.4 | 4.55 | 4.7 | 4.7 | 4.7 | 4.9 |
| Flyinglines length (m) | 21 | 21 | 21 | 21 | 21 | 21 | 21 |
| Wing depth in the middle (cm) | 144 | 154 | 162 | 169 | 178 | 195 | 206 |
| Wing span laid-out | 508 | 555 | 603 | 651 | 686 | 752 | 828 |
| Weight "kite only" (kg) | 2.68 | 2.74 | 3.07 | 3.31 | 3.64 | 3.92 | 4.50 |
Windrange in knots
The Wind Range Chart is to be used as a point of reference. It is based on a rider who weighs around 75kg (165lbs.) Actual use will vary depending on your weight, skill level, board size and the wind conditions on the Water or Land. When choosing the Kite size always use common sense and always choose a smaller size if you are not sure, especially when using the kite on land.
| Kite | 6.0 | 7.0 | 8.0 | 9.0 | 10.0 | 12.0 | 14.0 |
| --- | --- | --- | --- | --- | --- | --- | --- |
| Water | 20-40 | 18-38 | 17-36 | 16-33 | 15-28 | 12-25 | 10-22 |
| Land / Hydrofoil | 16-27 | 14-26 | 13-25 | 12-24 | 11-23 | 9-21 | 8-18 |


The BOOST 2 package would consist of:
• 1x STOKE Kite (kite only)
• 1x Self Launcher Bag
• 1x Repair Kit (Depower Line and further spare parts)
• 1x STOKE Gear Guide
• 1x STOKE Kite Bag
• 12 month Free Repair warranty by FLYSURFER
About Flysurfer
From the beginning, Flysurfer has taken its own path, away from the other more conventional options. They have built a reputation for designing high performance yet user friendly kites and maintaining the highest levels of build quality. Add to this the best customer service and it is easy to see why FS customers are so loyal.