Regular price
£1,445.00
Sale price
£1,299.00
Unit price
per
Sale
Sold out
We have 2 in stock
Share
View full details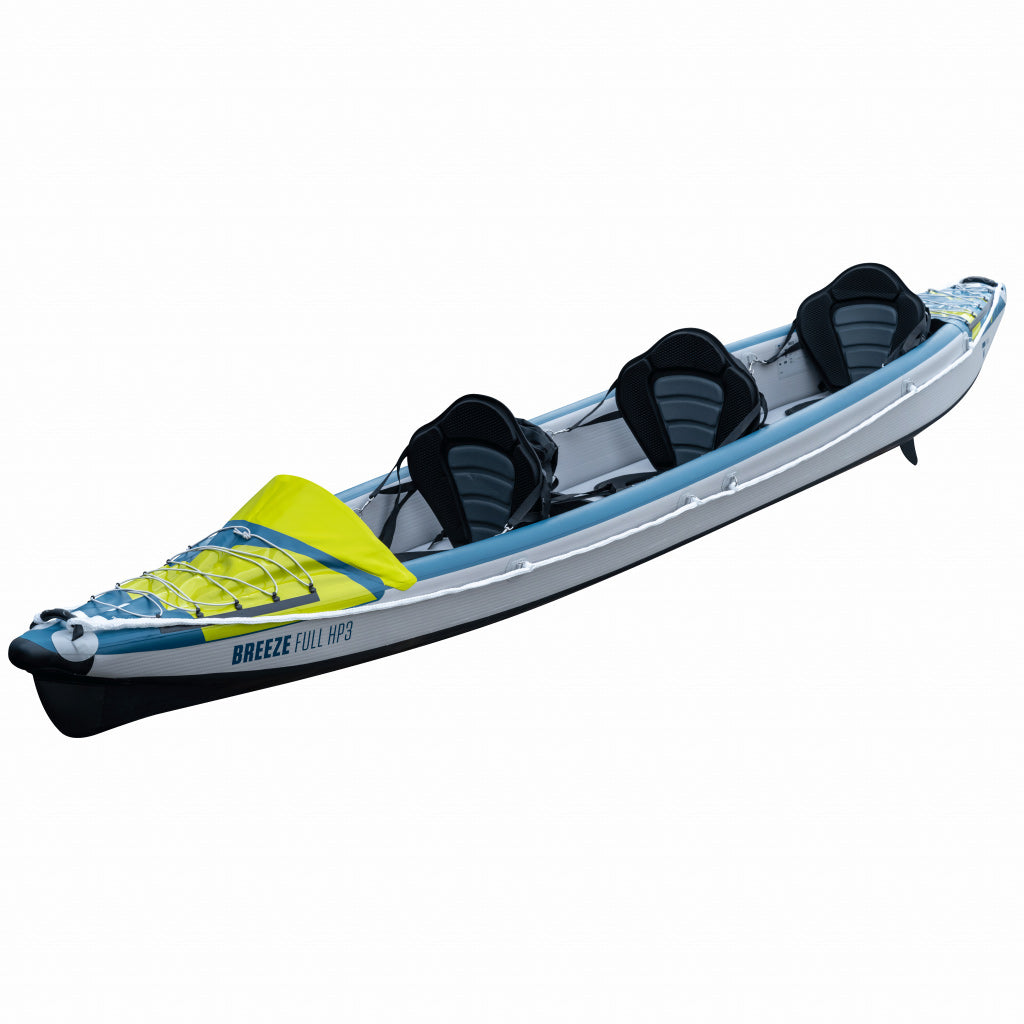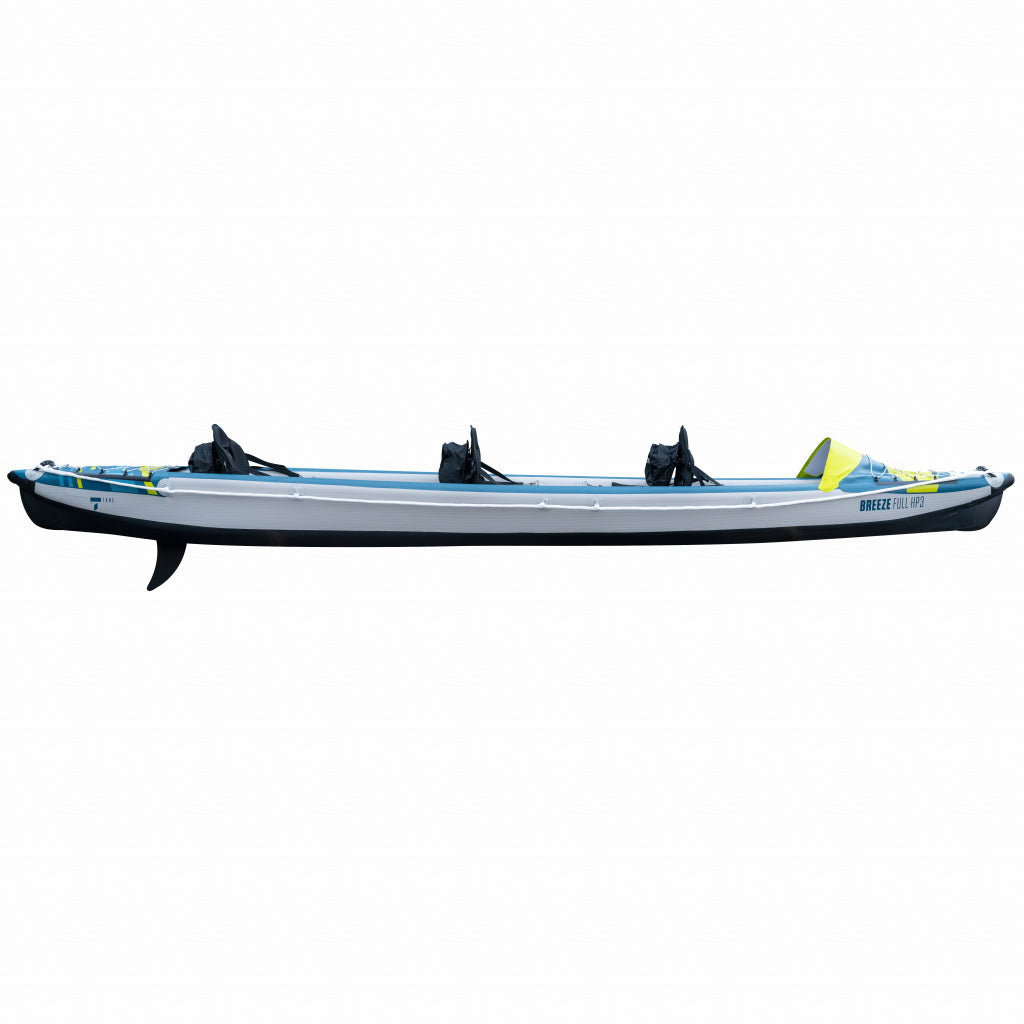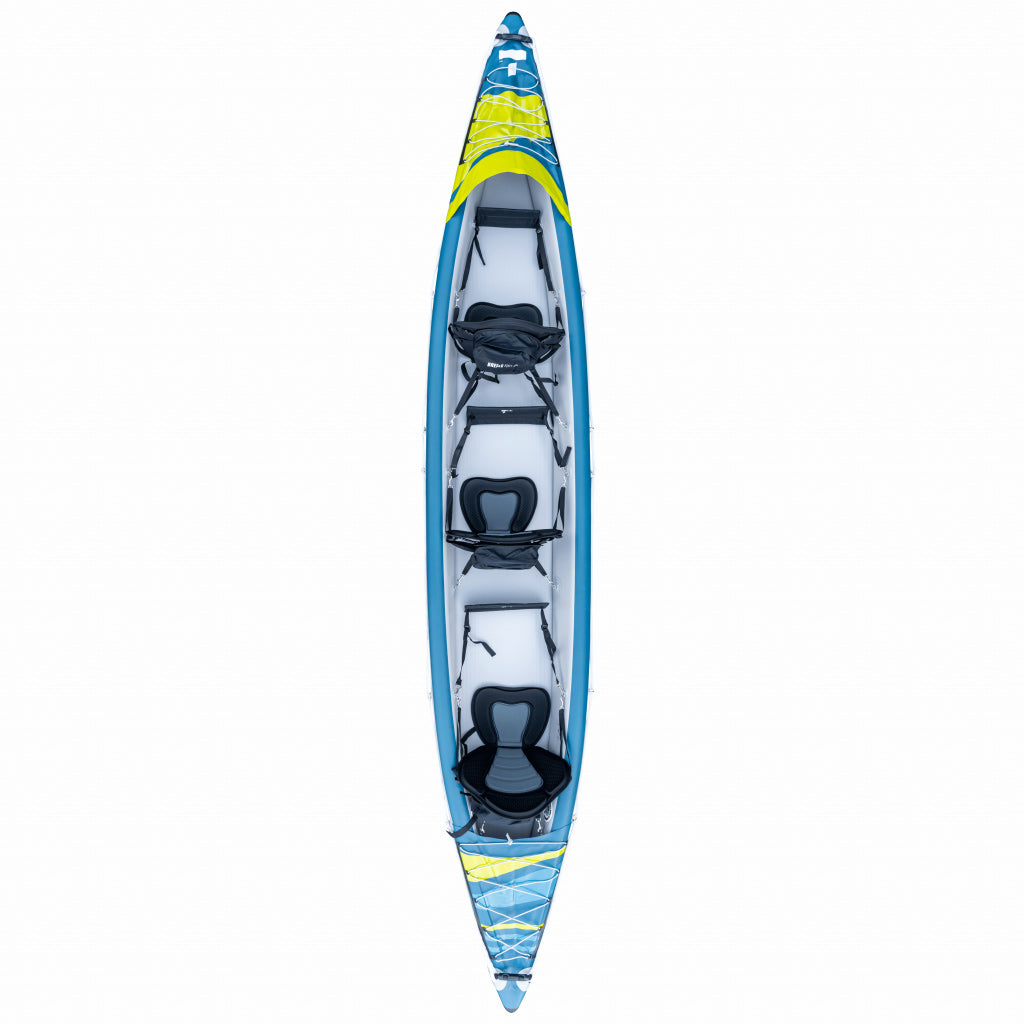 TAHE Breeze Full HP3 Kayak
The HP range from TAHE has been a staple of the range for a few years now, since the introduction of drop stitch constructions used in the inflatable SUP world. This construction allows for a more performance based kayak that still benefits from being able to fit into the back of a normal sized car. The standard low pressure constructions used on cheaper models are great for recreation, but tend to be a let down for more experienced paddlers wanting more performance over longer distances.
BREEZE FULL HP kayaks feature three high pressure chambers built with rugged Drop Stitch technology, pre-formed nose and tail sections. It creates a very rigid, high performance kayak. Available in single, tandem and three person sizes.
Top-of-the-range inflatable kayak with superior level of glide, good rigidity, plenty of space inside the cockpit for outings and exploration on all kinds of water, flat and rough.
The HP3 is designed for three paddlers. There are also the HP1 and HP2 designed for 1 or 2 paddlers. 
KEY FEATURES & BENEFITS
PANELLED, DROP STITCH HIGH-PRESSURE STRUCTURE (SAME AS OUR SUP RANGE)
Strength, stiffness and light weight
MANUFACTURED WITH A FUSION OF HIGH PERFORMANCE CLOTHS AND GLUES
Powerful adhesion, durability
PROFILED DECK (WITH DEEP V MOULDED TIP SECTIONS FRONT AND REAR) AND STEEP-ANGLED RUN-OFFS
Excellent glide, high performance, lateral stability, directional control
VERSATILE DESIGN CONCEPT
Great for all kinds of kayaking styles (and even SUP!)
TOTALLY DUAL PERFORMANCE
Identical solo and duo paddle comfort
HUGE CAPACITY FOR CARRYING EQUIPMENT IN THE COCKPIT
Plus extra, elasticated carry nets
FAST, EASY INFLATION IN LESS THAN 8 MINUTES
Thanks to its high pressure pump
H3 HIGH-PRESSURE VALVES
Reliable, totally air-tight, replaceable
AUTO-EMPTY BUNG
Fast, easy emptying after use
FRONT DEFLECTOR TO MINIMISE WATER ENTRY IN HEAVY CHOP

TECHNICAL SPECS



Max Load: 550 lbs / 250 kg



Footrest: Adjustable Footrest



Technology: HP Dropstitch



Country of manufacture: China
PACKAGE INCLUDES
THE BREEZE FULL HP3 COMES WITH
1 Breeze Full HP kayak with bungee storage, carry handles and drain plug
3x Inflatable Raised Seats for comfort and control
2x Footrests
3x 4-Piece Kayak Paddles for ease of storage
1x Inflation Pump for quick and easy set-up
1x Carry-All Backpack for convenient transport and storage
3x Removable Fins for superior tracking
1x Repair Kit
About TAHE
Formerly known as BIC Sport – TAHE's core values of quality, durability and affordability form the foundation of the brand's reputation and has opened the world of watersports to hundreds of thousands of watersports enthusiasts, thrill-seekers, and those simply happy to spend time out on the water enjoying nature.